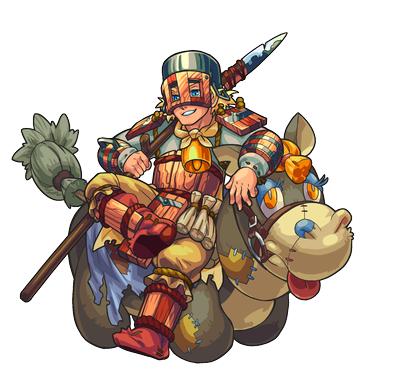 JP Name
-
JP #
1780
Class
Demihume
Element
Gender
-
Rarity
-

Sling
Bounce
Max Luck
90
Type
Balanced
Rating
-
Ability
Null Damage Wall
Gauge
-
HP
13202 (+2460) = 15662
Obtain
-
ATK
16464 (+1625) = 18089
SPD
233.67 (+22.95) = 256.62
Luck Skill
-
Badge
Strike Shot
On the Road of Chivalryn - 12 Turns
Increases Speed.
Bump Combo
Spread Piercer XL3 (2009)
Fires three 16-way sprays of massive elemental pass-through shots.

To Evo

1 Divine Sharl
5 Light Sharls
10 Light Stoans
30 Maxstoans

To Asc

Kay (3)
Briareus (1)
Prima Donna (2)
Recommended Form - Ascension
Double Null Abilities
Ascension SS deals more damage
Deluded Knight Don Quixote (Evolution)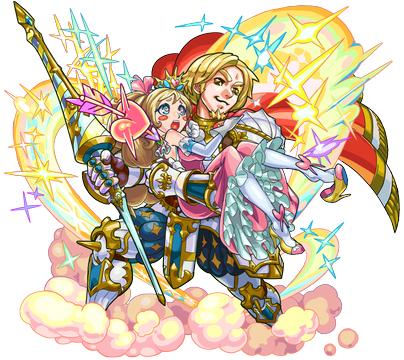 JP Name
-
JP #
1781
Class
Paladin
Element
Gender
-
Rarity
-

Sling
Bounce
Max Luck
99
Type
Balanced
Rating
-
Ability
Null Damage Wall
Gauge
Status Recovery
HP
20949 (+3900) = 24849
Obtain
-
ATK
19717 (+2875) = 22592 (27110 w/ Gauge)
SPD
292.17 (+44.20) = 336.37
Luck Skill
Badge
Strike Shot
Sancho Panza Strike - 23 Turns
Dizzies foes with speed and cancels projectiles for a set number of turns.
Bump Combo
Spread Pierce-struction XL3 (4499)
Fires three 16-way sprays of massive elemental pass-through shots.

To Asc

Kay (2)
Briareus (1)
Prima Donna (2)
Strengths
One of the few Null Damage Wall monsters with Status Recovery
Weakness
Relatively low Bump Combo damage
Ableberries
Survivor - Mitigate more damage
Class Kinspeed - Easier to reach allies with Status Recovery
Viable Quests

Impossibles/Colossals:


Fire:


Water:


Wood: Serket | Basilisk


Light: Yuan Shao


Dark: Dong Zhuo

Tower:

Temple: Water (Time) | Water (Carnage) | Wood (Carnage) | Light (Carnage) | Dark (Time)
Don Quixote, Windmill Rider (Ascension)
JP Name
-
JP #
1782
Class
Paladin
Element
Gender
-
Rarity
-

Sling
Bounce
Max Luck
99
Type
Balanced
Rating
-
Ability
Null Damage Wall
Gauge
Flight
HP
17908 (+4200) = 22108
Obtain
-
ATK
21385 (+3125) = 24510 (29412 w/ Gauge)
SPD
314.80 (+47.60) = 362.4
Luck Skill
Badge
Strike Shot
Rocinante - 26 Turns
Increases Speed and electrifies surrounding area.
Bump Combo
Spread Pierce-struction XL3 (4499)
Fires three 16-way sprays of massive elemental pass-through shots

Sub Bump

To Evo

15 Light Sharls
30 Light Stoans
90 Maxstoans
Strengths
Double Null Abilities
High Boss damage from SS as well as mob clearing capabilities
Weakness
SS damage can be inconsistent
Ableberries
Sidekick - Increases his high damaging Bump Combos
Class Kinstrength - Increases his SS damage
Viable Quests

Impossibles/Colossals:


Fire: Kanzuki Karin | Fireblade Murasame


Water: Queen Butterflight | Princess Iron Fan | Lilith


Wood: Windblade Murasame | Florrior | Basilisk


Light: Roller Girl | Vishnu | Jack


Dark: Da Vinci | Yeti | Dong Zhuo | Kamaitachi

Tower: 29F | 39F

Temple: Fire (Time) | Fire (Carnage) | Water (Time) | Water (Carnage) | Wood (Carnage) |Light (Time) | Light (Carnage) | Dark (Time)
Ad blocker interference detected!
Wikia is a free-to-use site that makes money from advertising. We have a modified experience for viewers using ad blockers

Wikia is not accessible if you've made further modifications. Remove the custom ad blocker rule(s) and the page will load as expected.