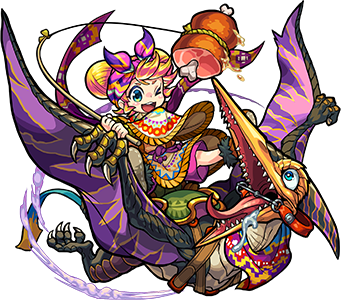 JP Name
-
JP #
2446
Class
Dragon
Element
Gender
-
Rarity
-

Sling
Pierce
Max Luck
90
Type
Balanced
Rating
-
Ability
Flight
Gauge
Null Block
HP
14376 (+0) = 14376
Obtain
-
ATK
12381 (+0) = 12381
SPD
247.9 (+0) = 247.9
Luck Skill
-
Badge
Strike Shot
Dino Strike - 12 Turns
Increases Speed.
Bump Combo
Rebound Splitshot (8858)
Fires three elemental spreadshots that rebound and scatter off walls.

To Evo

2 Divine Sharls
10 Dark Sharls
20 Dark Stoans
60 Maxstoans
Pteranodon Rider Dina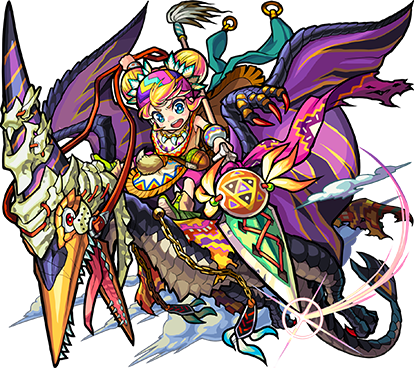 JP Name
-
JP #
2447
Class
Dragon
Element
Gender
-
Rarity
-

Sling
Pierce
Max Luck
99
Type
Balanced
Rating
-
Ability
Flight
Gauge
Null Block / Null Magic Circle
HP
18790 (+3900) = 22690
Obtain
-
ATK
17868 (+6100) = 23968 (28761 w/ Gauge)
SPD
256.53 (+90.95) = 347.48
Luck Skill
Badge
Strike Shot
Forceful Glide - 24 Turns
Increases Speed and Strength and restores HP over a wide area upon stopping.
Bump Combo
Rebound Splitshot (12400)
Fires five elemental spreadshots that rebound and scatter off walls.
Strengths
Rebound Splitshot for damage
Only farmable Null Magic Circle monster
SS can heal up to 51% of full HP (17% per ally monster)
Weakness
Not many dungeons that need one or two of her 3 Null Abilities
Need to sacrifice damage for healing and vice versa for her SS
Viable Quests

Impossibles/Colossals: El Dorado


Fire:


Water:


Wood:


Light: Pine | Scyllara | Cardinal Richelieu | Vishnu | Sphinx


Dark: Typera | Honda Tadakatsu

Tower: 39F

Temple:
Ad blocker interference detected!
Wikia is a free-to-use site that makes money from advertising. We have a modified experience for viewers using ad blockers

Wikia is not accessible if you've made further modifications. Remove the custom ad blocker rule(s) and the page will load as expected.