JP Name
貂蝉
JP #
1769
Class
Samurai
Element
Gender
Female
Rarity
5★

Sling
Pierce
Max Luck
90
Type
Balanced
Rating
-
Ability
Null Warp
Gauge
-
HP
12836 (+0) = 12836
Obtain
ATK
12035 (+0) = 12035
SPD
248 (+0) = 248
Luck Skill
-
Badge
Strike Shot
Alluring Dance - 15 Turns
Bashes the first contacted enemy and sends it flying.
Bump Combo
Lock-on Shockwave 6 (13259)
Attacks with 6 non-elemental shockwaves.

To Evo

1 Divine Sharl
5 Green Sharls
10 Green Stoans
30 Maxstoans

To Asc

Yuan Shao (2)
Imperial Feast (2)
Ping Pong Panda (1)
Wu Tugu (1)

Material For

Nightingale
Zhou Yu
Da Qiao, Xiao Qiao
Yuan Shao
Recommended Form - Either
Evolution has two Null Abilities
Ascension is a better monster for Nirai Kanai (Colossal)
Songstress Diaochan (Evolution)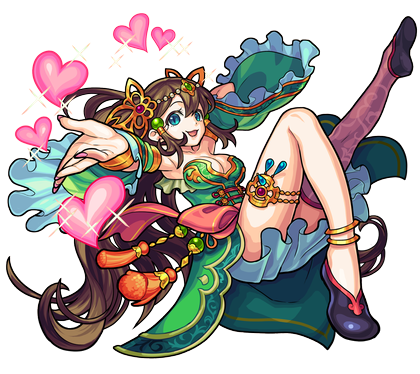 JP Name
麗しき歌姫 貂蝉
JP #
1770
Class
Samurai
Element
Gender
Female
Rarity
6★

Sling
Bounce
Max Luck
99
Type
Balanced
Rating
6.0
Ability
Null Warp
Gauge
Null Gravity Barrier
HP
16699 (+3900) = 20599
Obtain
Evolution
ATK
12786 (+4375) = 17161 (20593 w/ Gauge)
SPD
256.03 (+90.95) = 346.98
Luck Skill
Badge
Strike Shot
A Song for One - 16 Turns
Bashes the first contacted enemy and sends it flying.
Bump Combo
Lock-on Shockwave 6 (18562)
Attacks with 6 non-elemental shockwaves.

To Asc

Yuan Shao (1)
Imperial Feast (1)
Ping Pong Panda (1)
Wu Tugu (1)
Strengths
Weakness
Ableberries
Viable Quests

Impossibles/Colossals: Nirai Kanai | Lu Bu


Fire:


Water: Louis XIII | Kraken | Waterblade Murasame


Wood:


Light: Princess Nokko


Dark:

Tower: 27F

Temple: Water (Time) | Water (Carnage)
Peerless Beauty Diaochan (Ascension)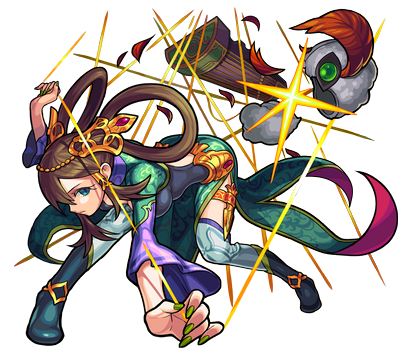 JP Name
閉月美人 貂蝉
JP #
1771
Class
Samurai
Element
Gender
Female
Rarity
6★

Sling
Pierce
Max Luck
99
Type
Balanced
Rating
6.0
Ability
Water Resistance
Gauge
-
HP
19506 (+4200) = 23706
Obtain
Ascension
ATK
19231 (+6575) = 25806
SPD
237.2 (+84.15) = 321.35
Luck Skill
Badge
Strike Shot
Dancing Wires - 24 Turns
Neutralizes damage walls, barriers, warps, and mines.
Bump Combo
Giga Blast (7499)
Attacks with a massive, non-elemental blast around the user.

Sub Bump

To Evo

15 Green Sharls
30 Green Stoans
90 Maxstoans
Strengths
All Null SS to ignore hazards
Blast Bump to proc allies' Bump Combos
Weakness
Ableberries
Style Kinstrength - Boosts ATK for Pierce monsters in Nirai Kanai (Colossal)
Survivor - Mitigate damage for Nirai Kanai (Colossal)
Viable Quests

Impossibles/Colossals: Nirai Kanai | Doom


Fire:


Water: : Origa | Queen Butterflight | Nurarihyon | Alien Balton | Kay


Light:


Dark:

Tower: 22F

Temple: Water (Time) | Water (Carnage)
Ad blocker interference detected!
Wikia is a free-to-use site that makes money from advertising. We have a modified experience for viewers using ad blockers

Wikia is not accessible if you've made further modifications. Remove the custom ad blocker rule(s) and the page will load as expected.