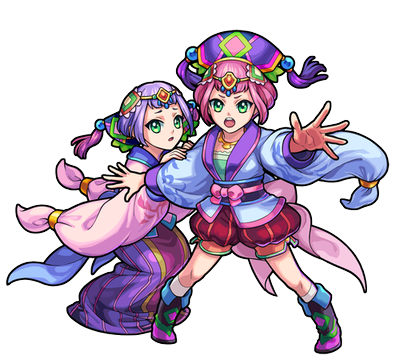 JP Name
-
JP #
1762
Class
Demihume
Element
Gender
-
Rarity
-

Sling
Pierce
Max Luck
90
Type
Speed
Rating
-
Ability
Mine Sweeper
Gauge
-
HP
13380 (+2460) = 15840
Obtain
-
ATK
14432 (+1425) = 15857
SPD
321.43 (+32.30) = 353.73
Luck Skill
-
Badge
Strike Shot
Kindred Beauties - 12 Turns
Increases Speed.
Bump Combo
Spread Piercer XK3 (2009)
Fires three 16-way sprays of massive elemental pass-through shots.

To Evo

1 Divine Sharl
5 Dark Sharls
10 Dark Stoans
30 Maxstoans

To Asc

Diaochan (3)
Wu Tugu (3)
Recommended Form - Either
Both forms have different Null abilities
Ascension has an extra Null
Evolution has a 16 Turn Meteor SS
Two Qiaos of Jiangdong (Evolution)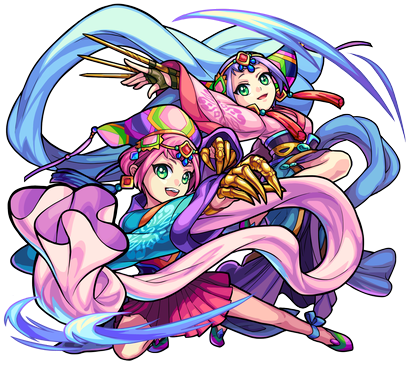 JP Name
-
JP #
1763
Class
Demihume
Element
Gender
-
Rarity
-

Sling
Pierce
Max Luck
99
Type
Speed
Rating
-
Ability
Mine Sweeper L / Beast Slayer L
Gauge
-
HP
16262 (+3900) = 20162
Obtain
-
ATK
22141 (+3225) = 25366
SPD
394.6 (+59.5) = 454.1
Luck Skill
Badge
Strike Shot
Bashful Flowers, Waning Moon - 16 Turns
Attacks all enemies on contact with lightning.
Bump Combo
Spread Pierce-struction XL3 (4499)
Fires three 16-way sprays of massive elemental pass-through shots.

To Asc

Diaochan (2)
Wu Tugu (2)
Strengths
16 Turn Meteor SS for mob clearing
Has Mine Sweeper L for x2.5 more damage with swept mines and has high SPD and Pierce
Weakness
Only one Null ability
No real use for Beast Slayer
Ableberries
Class Kinstrength - Increase Meteor damage
Class Kinspeed- Be able to sweep more mines
Viable Quests

Impossibles/Colossals: Daikokuten | El Dorado


Fire: Daisy | Leopoint


Water: Koalius


Wood: Gigafighter


Light: Vishnu | Roller Girl


Dark: Honda Tadakatsu | Kamaitachi | Typera

Tower:

Temple: Fire (Time) | Fire (Carnage) | Water (Time) | Wood (Carnage)
Two Qiaos, Twin Comets of Wu (Ascension)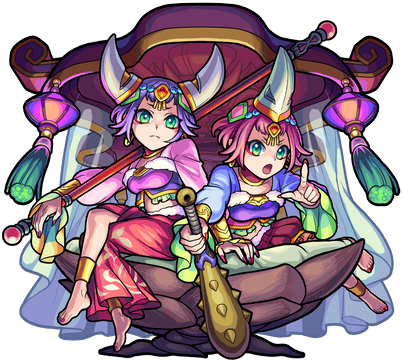 JP Name
-
JP #
1764
Class
Demihume
Element
Gender
-
Rarity
-

Sling
Pierce
Max Luck
99
Type
Speed
Rating
-
Ability
Null Damage Wall
Gauge
Null Block
HP
17285 (+4200) = 21485
Obtain
-
ATK
18686 (+2725) = 21411 (25693 w/ Gauge)
SPD
376.83 (+56.95) = 433.78
Luck Skill
Badge
Strike Shot
Prepping a Clubbing - 20 Turns
Explodes on first enemy contact and does a lot of damage to all foes in the vicinity.
Bump Combo
Spread Pierce-struction XL3 (4499)
Fires three 16-way sprays of massive elemental pass-through shots.

Sub Bump

To Evo

15 Dark Sharls
30 Dark Stoans
90 Maxstoans
Strengths
Weakness
Not many uses for Null Block
Ableberries
Survivor - Mitigates damage since she has relatively low HP
Knockout - Synergies with Sling and high SPD
Viable Quests

Impossibles/Colossals:


Fire: Taki Rentaro


Water:


Wood: Gigafighter | Chikamatsu Monzaemon


Light: Scyllara | Yuan Shao | Cabaletta | Marida of the Lamp | Pine | LionDance | Jack


Dark: Kamaitachi

Tower:

Temple: Water (Time) | Water (Carnage) | Wood (Time) | Wood (Carnage) | Light (Time) | Dark (Time)
Ad blocker interference detected!
Wikia is a free-to-use site that makes money from advertising. We have a modified experience for viewers using ad blockers

Wikia is not accessible if you've made further modifications. Remove the custom ad blocker rule(s) and the page will load as expected.