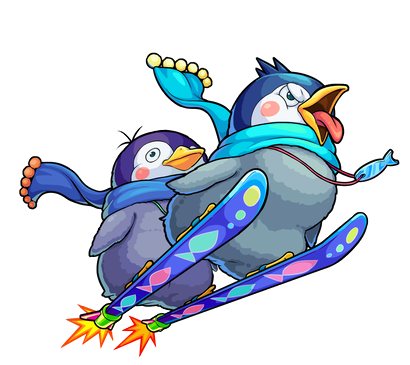 JP Name
-
JP #
1724
Class
Avian
Element
Gender
-
Rarity
-

Sling
Pierce
Max Luck
72
Type
Speed
Rating
-
Ability
Null Gravity Barrier
Gauge
-
HP
7410 (+1400) = 8810
Obtain
-
ATK
5566 (+525) = 6091
SPD
271.1 (+27.2) = 298.3
Luck Skill
-
Badge
Strike Shot
Rocket Ski Jump - 12 Turns
Increases Speed.
Bump Combo
Cross Laser S (2706)
Attacks in a cross pattern with small elemental lasers.

To Evo

1 Blue Sharl
5 Blue Stoans
10 Maxstoans
30 Stoans

Material For

Forty-Seven Ronin
Snowman
Da Speedster Penguin Bros (Evolution)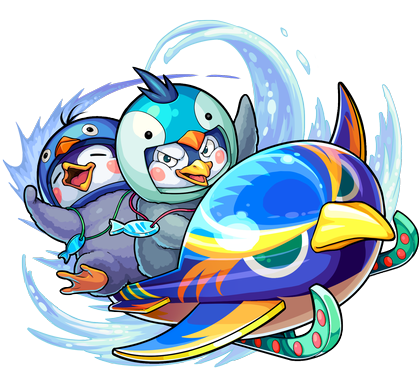 JP Name
-
JP #
1725
Class
Avian
Element
Gender
-
Rarity
-

Sling
Pierce
Max Luck
90
Type
Speed
Rating
-
Ability
Null Gravity Barrier
Gauge
Demihume Slayer
HP
12937 (+2460) = 15397
Obtain
-
ATK
8089 (+2750) = 10839 (13006 w/ Gauge)
SPD
299.9 (+105.4) = 405.3
Luck Skill
-
Badge
Strike Shot
Toboggan Dash - 18 Turns
Increases Speed and Strength.
Bump Combo
Cross Laser M (4735)
Attacks in an cross pattern with 4 medium-sized elemental lasers.
Strengths
High SPD and Pierce to proc Slayer consistently
Weakness
Low attack even with Slayer
Ad blocker interference detected!
Wikia is a free-to-use site that makes money from advertising. We have a modified experience for viewers using ad blockers

Wikia is not accessible if you've made further modifications. Remove the custom ad blocker rule(s) and the page will load as expected.