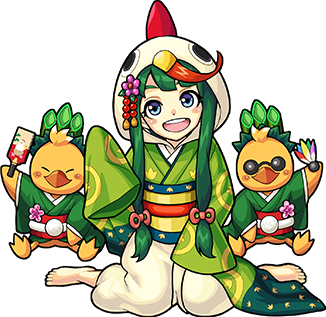 JP Name
丁酉コッコ
JP #
2395
Class
Avian
Element
Gender
-
Rarity
-

Sling
Bounce
Max Luck
90
Type
Balanced
Rating
-
Ability
Null Gravity Barrier
Gauge
-
HP
16120 (+0) = 16120
Obtain
-
ATK
13217 (+0) = 13217
SPD
235.7 (+0) = 235.7
Luck Skill
-
Badge
-
Strike Shot
First Crow of the New Year! - 12 Turns
Increases Speed.
Bump Combo
Mega Blast (7653)
Attacks with a very large, non-elemental blast around the user.

To Evo

1 Divine Sharl
5 Green Sharls
10 Green Stoans
30 Maxstoans
Fun Fowl Clucky (Evolution)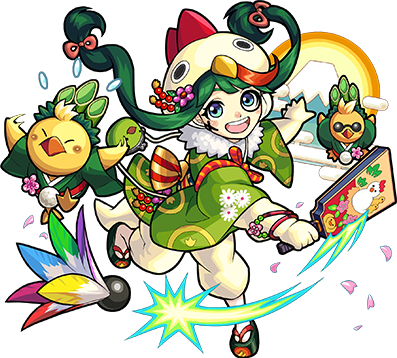 JP Name
ニワトリガールコッコ
JP #
2396
Class
Avian
Element
Gender
-
Rarity
-

Sling
Bounce
Max Luck
99
Type
Balanced
Rating
-
Ability
Null Gravity Barrier
Gauge
Null Block
HP
18117 (+3900) = 22017
Obtain
-
ATK
15045 (+5125) = 20170 (26420 w/ Gauge)
SPD
236.87 (+83.3) = 320.17
Luck Skill
Badge
-
Strike Shot
Cock-a-doodle Smash! - 21 Turns
Creates four images that terrorize the battlefield.
Bump Combo
Giga Blast (7499)
Attacks with a massive, non-elemental blast around the user.
Strengths
Clone SS great for mob clearing and damage
Blast Bump for support
Decent stats
Weakness
Viable Quests

Impossibles/Colossals: Yamato Takeru | Tsukuyomi: Zero | Tsukuyomi | Lu Bu


Fire:


Water: Koalius | Goldy & Baldy | Baal | Fox Metal | Jabberwock


Wood:


Light: Pine | Scyllara


Dark: Lady Rokujo

Tower:

Temple:
Ad blocker interference detected!
Wikia is a free-to-use site that makes money from advertising. We have a modified experience for viewers using ad blockers

Wikia is not accessible if you've made further modifications. Remove the custom ad blocker rule(s) and the page will load as expected.