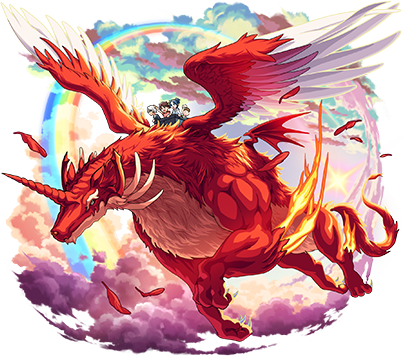 JP Name
-
JP #
2354
Class
Dragon
Element
Gender
-
Rarity
-

Sling
Pierce
Max Luck
99
Type
Balanced
Rating
-
Ability
Flight / Null Damage Wall
Gauge
HP
19369 (+3900) = 23269
Obtain
-
ATK
25105 (+2450) = 27555
SPD
306.70 (+30.60) = 337.3
Luck Skill
Badge
Strike Shot
Back to the Beginning - 12 Turns
Bashes the first contacted enemy and sends it flying.
Bump Combo
Breath (29278)
Attacks nearby enemies with elemental breath.
Strengths
Two Null Abilities
Short cooldown SS to position him for his powerful Bump Combo
Weakness
Lots of replacements due to his common ability set
Viable Quests

Impossibles/Colossals: Marishiten


Fire:


Water:


Wood: Serket | Florrior | Medusa | Snowman | Siren | Kevin Verdure | Gigabeast Fighters


Light:


Dark: Typera

Tower: 33F

Temple: Fire (Time) | Fire (Carnage) | Wood (Time) | Wood (Carnage) | Dark (Time)

Ad blocker interference detected!
Wikia is a free-to-use site that makes money from advertising. We have a modified experience for viewers using ad blockers

Wikia is not accessible if you've made further modifications. Remove the custom ad blocker rule(s) and the page will load as expected.