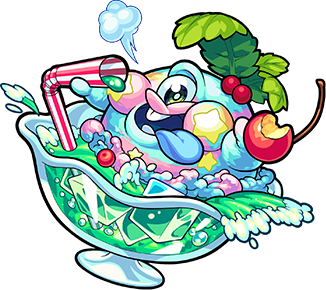 JP Name
-
JP #
2538
Class
Demon
Element
Gender
-
Rarity
-

Sling
Bounce
Max Luck
72
Type
Balanced
Rating
-
Ability
Null Gravity Barrier
Gauge
-
HP
8352 (+1400) = 9752
Obtain
-
ATK
7481 (+725) = 8206
SPD
174.50 (+17.00) = 191.5
Luck Skill
-
Badge
Strike Shot
ハッピーアイスクリーム! - 12 Turns
Increases Speed.
Bump Combo
Flare (3667)
Attacks with a blast around the user which has a small chance of paralyzing enemies.

To Evo

1 Blue Sharl
5 Blue Sharls
10 Maxstoans
30 Stoans
Cream Monster (Evolution)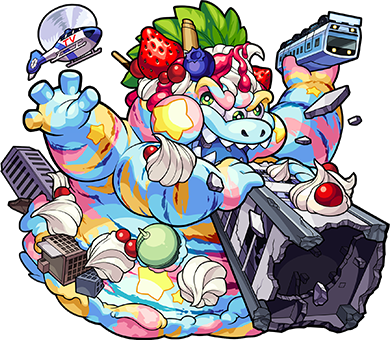 JP Name
-
JP #
2539
Class
Demon
Element
Gender
-
Rarity
-

Sling
Bounce
Max Luck
90
Type
Balanced
Rating
-
Ability
Null Wind
Gauge
Null Gravity Barrier
HP
14618 (+2460) = 17078
Obtain
-
ATK
11260 (+3825) = 15085 (18102 w/ Gauge)
SPD
203.87 (+71.40) = 275.27
Luck Skill
-
Badge
Strike Shot
スクリーム・オブ・アイス - 24 Turns
Gigantifies the user on enemy contact and mows enemies down.
Bump Combo
Flare (6418)
Attacks with a blast around the user which has a small chance of paralyzing enemies.
Strengths
Powerful SS when used in narrow gap
Weakness
Bump Combo needs positioning
Null Wind not very useful
Brave Girls Series

Hatcher Monsters

Elizabeth I

Lady Tomoe

Calamity Jane
Drop Monsters

Cream Monster

Bubble Boy

Sweet Deer

Domyoji Anko
[Savage] Guide
[Extreme] Guide
[Extreme] Guide
[Lethal] Guide
Ad blocker interference detected!
Wikia is a free-to-use site that makes money from advertising. We have a modified experience for viewers using ad blockers

Wikia is not accessible if you've made further modifications. Remove the custom ad blocker rule(s) and the page will load as expected.