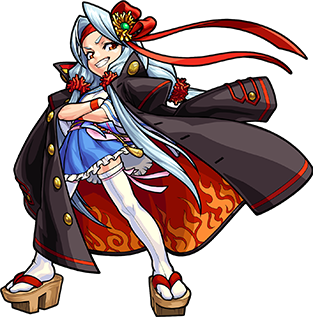 JP Name
-
JP #
2280
Class
Demihume
Element
Gender
-
Rarity
-

Sling
Pierce
Max Luck
90
Type
Balanced
Rating
-
Ability
Null Damage Wall
Gauge
-
HP
15018 (+2460) = 17478
Obtain
-
ATK
16663 (+1625) = 18288
SPD
275.07 (+27.2) = 302.27
Luck Skill
-
Badge
Strike Shot
Crystal of Wisdom - 12 Turns
Increases Speed.
Bump Combo
Lock-on Piercewave 6 (13259)
Attacks foes with 6 non-elemental piercewaves.

To Evo

1 Divine Sharl
5 Red Sharls
10 Red Stoans
30 Maxstoans

To Asc

Leopoint (2)
Homumi (2)
Arte (1)
Recommended Form - Either
Coral, Gem of Fire (Evolution)
JP Name
-
JP #
2281
Class
Demihume
Element
Gender
-
Rarity
-

Sling
Pierce
Max Luck
99
Type
Balanced
Rating
-
Ability
Null Damage Wall / Avian Slayer M
Gauge
HP
19754 (+3900) = 23654
Obtain
-
ATK
25362 (+3700) = 29062
SPD
297.43 (+45.05) = 342.48
Luck Skill
Badge
Strike Shot
Campus Amulet - 8 Turns
Increases Speed and Strength and enables Counter Mode.
Bump Combo
Lock-on Piercewave 6 (18562)
Attacks foes with 6 non-elemental piercewaves.

To Asc

Leopoint (1)
Homumi (1)
Arte (1)
Strengths
Effective against Avian enemies, especially Shambhala
Strong Bump Combo that procs her Slayer
Weakness
Very little Avian enemies
Ableberries
Viable Quests

Impossibles/Colossals: Shambhala


Fire:


Water:


Wood: Siren | Chikamatsu Monzaemon | PC-G3 | Poltergeist | Serket | Cute Rooster Clucky


Light:


Dark:

Tower: 33F | 37F

Temple: Wood (Time) | Wood (Carnage) | Light (Carnage) | Dark (Time)
Freedom Fighter Coral (Ascension)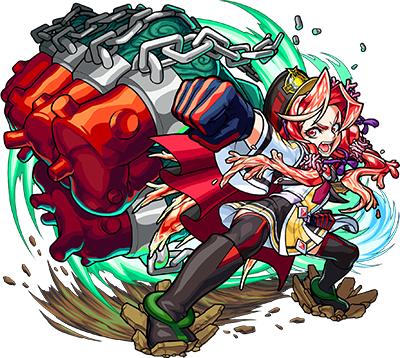 JP Name
-
JP #
2282
Class
Paladin
Element
Gender
-
Rarity
-

Sling
Pierce
Max Luck
99
Type
Balanced
Rating
-
Ability
Mine Sweeper
Gauge
Null Gravity Barrier
HP
19335 (+4200) = 23535
Obtain
-
ATK
22800 (+3325) = 26125 (31350 w/ Gauge)
SPD
290.8 (+44.2) = 335.00
Luck Skill
Badge
Strike Shot
Crimson Coral Crush - 16 Turns
Deals a ton of damage on contact with enemy weak point.
Bump Combo
Rebound Shockwave 6 (31555)
Attacks with 6 rebounding elemental shockwaves.

Sub Bump

To Evo

15 Red Sharls
30 Red Stoans
90 Maxstoans
Strengths
Double Null Abilities for high versatility
Weak Point SS synergizes well with Sling
Weakness
Inconsistent damage with Bump Combo
Ableberries
Class Kinstrength - Increases SS damage
Viable Quests

Impossibles/Colossals: Acala | Memento Mori


Fire:


Water:


Wood: Jiraiya | Gigamantis | Zhang Jiao | Pencil Base | Halloweena | Wood Noel | Kevin Verdure


Light:


Dark: Slash | Honda Tadakatsu | Bastet

Tower:

Temple: Fire (Time) | Fire (Carnage) | Wood (Carnage) | Dark (Carnage)
Jewel Academy 2 Series

Hatcher Monsters

Coral

Lapis Lazuli

Pearl
Drop Monsters

Leopoint

Homumi

Arte

Valodica
[Extreme] Guide
[Extreme] Guide
[Savage] Guide
[Lethal] Guide
Ad blocker interference detected!
Wikia is a free-to-use site that makes money from advertising. We have a modified experience for viewers using ad blockers

Wikia is not accessible if you've made further modifications. Remove the custom ad blocker rule(s) and the page will load as expected.