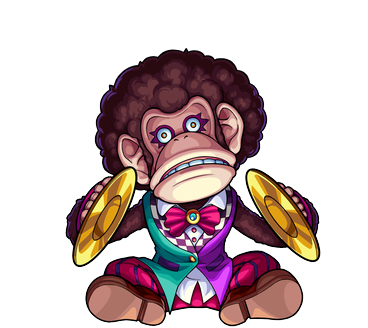 JP Name
-
JP #
2232
Class
Beast
Element
Gender
-
Rarity
-

Sling
Pierce
Max Luck
72
Type
Power
Rating
-
Ability
Beast Slayer M
Gauge
-
HP
8972 (+1400) = 10372
Obtain
-
ATK
10030 (+975) = 11005
SPD
112.13 (+11.05) = 123.18
Luck Skill
-
Badge
Strike Shot
Cymbals in the Darkness - 16 Turns
Rebound off enemies and dance across the battlefield!
Bump Combo
Vertical Laser M (3788)
Attacks upward and downward with 2 medium-sized elemental lasers.

To Evo

1 Dark Sharl
5 Dark Stoans
10 Maxstoans
30 Stoans

Material For

Katsushika Hokusai
Taki Rentaro
Schubert
Berserk Doll Con Brio (Evolution)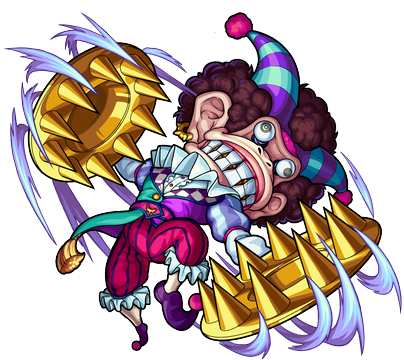 JP Name
-
JP #
2233
Class
Beast
Element
Gender
-
Rarity
-

Sling
Pierce
Max Luck
90
Type
Power
Rating
-
Ability
Beast Slayer L
Gauge
HP
15369 (+2460) = 17829
Obtain
-
ATK
17754 (+6050) = 23804
SPD
123.73 (+43.35) = 167.08
Luck Skill
Badge
Strike Shot
Death Crash - 16 Turns
Rebound off enemies and dance across the battlefield!
Bump Combo
Vertical Laser L (6629)
Attacks upward and downward with 2 large elemental lasers.
Strengths
Effective against Beast enemies and easy to get damage due to Sling
Weakness
Low stats
No Null Abilities
Artists Series

Hatcher Monsters

Katsushika Hokusai

Rembrandt

Gogh
Drop Monsters

Taki Rentaro

Schubert

Poca-Poco

Dvorak

Con Brio
[Extreme] Guide
[Extreme] Guide
[Savage] Guide
[Savage] Guide
[Savage] Guide
Ad blocker interference detected!
Wikia is a free-to-use site that makes money from advertising. We have a modified experience for viewers using ad blockers

Wikia is not accessible if you've made further modifications. Remove the custom ad blocker rule(s) and the page will load as expected.