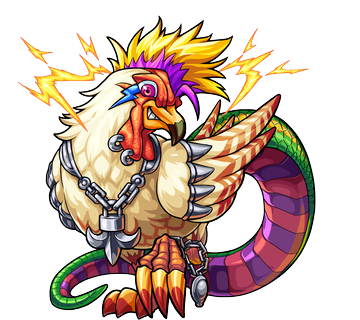 JP Name
-
JP #
1208
Class
Etherean
Element
Gender
-
Rarity
-

Sling
Bounce
Max Luck
72
Type
Balanced
Rating
-
Ability
Null Damage Wall
Gauge
-
HP
7934 (+1400) = 9334
Obtain
-
ATK
7149 (+675) = 7824
SPD
187.17 (+18.70) = 205.87
Luck Skill
-
Badge
Strike Shot
Numbing Glint - 12 Turns
Bashes the first contacted enemy and attacks with a laser.
Bump Combo
Lock-on Toxwave 3 (3788)
Attacks with 3 poison shockwaves.

To Evo

1 Light Sharl
5 Light Stoans
10 Maxstoans
30 Stoans

Material For

Othello
Juliet
Basilisk
Foul Hunter Cockatrice (Evolution)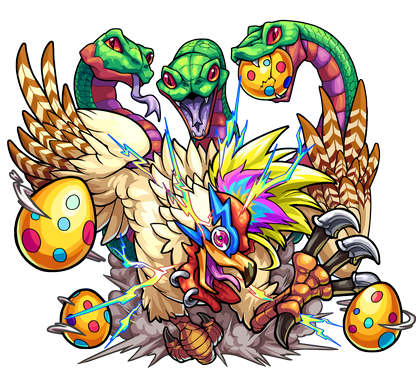 JP Name
-
JP #
1209
Class
Etherean
Element
Gender
-
Rarity
-

Sling
Bounce
Max Luck
90
Type
Balanced
Rating
-
Ability
Null Damage Wall
Gauge
HP
13887 (+2460) = 16347
Obtain
-
ATK
12513 (+4250) = 16763
SPD
218.67 (+77.35) = 296.02
Luck Skill
Badge
Strike Shot
Vortex Phoenix - 14 Turns
Bashes the first contacted enemy and attacks with a laser.
Bump Combo
Lock-on Toxwave 6 (6629)
Attacks with 6 poison shockwaves.
Strengths
Poison damage for scorpions
High stats
Weakness
Low damage overall
Only one Null Ability
Sinister Script Series

Hatcher Monsters

Romeo

Juliet

Othello
Drop Monsters

Gargoyle

Grootslang

Basilisk

Cockatrice

Mandrake
[Extreme] Guide
[Savage] Guide
[Extreme] Guide
[Savage] Guide
[Savage] Guide
Ad blocker interference detected!
Wikia is a free-to-use site that makes money from advertising. We have a modified experience for viewers using ad blockers

Wikia is not accessible if you've made further modifications. Remove the custom ad blocker rule(s) and the page will load as expected.