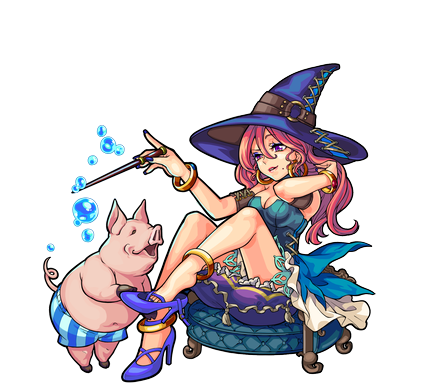 JP Name
-
JP #
1442
Class
Mancer
Element
Gender
-
Rarity
-

Sling
Bounce
Max Luck
72
Type
Balanced
Rating
-
Ability
Null Damage Wall
Gauge
-
HP
7405 (+1400) = 8805
Obtain
-
ATK
6556 (+625) = 7181
SPD
231.67 (+22.95) = 254.62
Luck Skill
-
Badge
Strike Shot
Time to Swine - 12 Turns
Increases Speed.
Bump Combo
Poison Spread 8 (717)
Fires three 8-way sprays of poison bullets.

To Evo

1 Blue Sharl
5 Blue Stoans
10 Maxstoans
30 Stoans
Abundant Lover Circe (Evolution)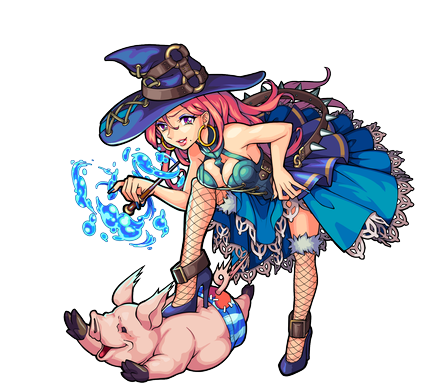 JP Name
-
JP #
1443
Class
Mancer
Element
Gender
-
Rarity
-

Sling
Bounce
Max Luck
90
Type
Balanced
Rating
-
Ability
Null Damage Wall
Gauge
Recovery S
HP
12768 (+2460) = 15228
Obtain
-
ATK
11192 (+1650) = 12842 (15410 w/ Gauge)
SPD
268.43 (+39.95) = 308.38
Luck Skill
-
Badge
Strike Shot
Sadistic Heel - 20 Turns
Neutralizes damage walls, barriers, warps, and mines.
Bump Combo
Poison Spread 8 (1004)
Fires three 8-way sprays of poison bullets.
Strengths
Keeps your Team HP topped off
SS can deal with GB, Mines and Warps
Weakness
Bump Combo is pretty useless outside of Scorpions
Ad blocker interference detected!
Wikia is a free-to-use site that makes money from advertising. We have a modified experience for viewers using ad blockers

Wikia is not accessible if you've made further modifications. Remove the custom ad blocker rule(s) and the page will load as expected.