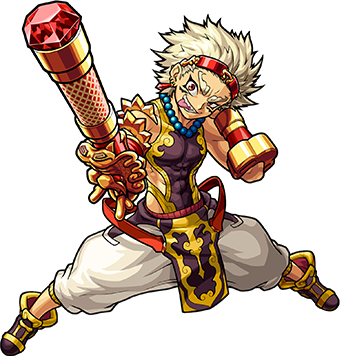 JP Name
-
JP #
2373
Class
Demon
Element
Gender
-
Rarity
-

Sling
Bounce
Max Luck
90
Type
Blast
Rating
-
Ability
Null Gravity Barrier
Gauge
-
HP
12521 (+2460) = 14981
Obtain
-
ATK
14396 (+1400) = 15796
SPD
221.8 (+22.1) = 243.9
Luck Skill
-
Badge
Strike Shot
Extend to Victory - 12 Turns
Increases Speed.
Bump Combo
Vertical Laser L (13259)
Attacks upward and downward with 2 large elemental lasers.

To Evo

1 Divine Sharl
5 Light Sharls
10 Light Stoans
30 Maxstoans

To Asc

Cleaning Commando (2)
Bucky Noodle (4)
Recommended Form - Evolution
Heavy Hitter Chief of Staff (Evolution)
JP Name
-
JP #
2374
Class
Demon
Element
Gender
-
Rarity
-

Sling
Bounce
Max Luck
99
Type
Blast
Rating
-
Ability
Flight / Dark Resistance
Gauge
Null Gravity Barrier
HP
19894 (+3900) = 23794
Obtain
-
ATK
19776 (+2900) = 22676 (27211 w/ Gauge)
SPD
246.5 (+37.4) = 283.9
Luck Skill
Badge
Strike Shot
Monkey King Mayhem - 8 Turns
Increases Speed and Strength and returns monster to previous location.
Bump Combo
One-way Laser (34032)
Attacks upward with a massive elemental laser.

To Asc

Cleaning Commando (1)
Bucky Noodle (3)
Strengths
Powerful Blast Type Bump Combo
8 Turn SS that can be used without getting out of position
Weakness
Ableberries
Sidekick - Increases his Bump Combo damage
Survivor - Mitigates damage from enemies
Viable Quests

Impossibles/Colossals: Acala


Fire:


Water:


Wood:


Light:


Dark: Dark Wyrm | Bastet | Gilles de Rais | Deathscoil | Slash | Princess Takiyasha | Genome | Pharaoh

Tower:

Temple: Fire (Time) | Fire (Carnage) | Water (Time) | Wood (Carnage) | Light (Time)
Dragon Driver Chief of Staff (Ascension)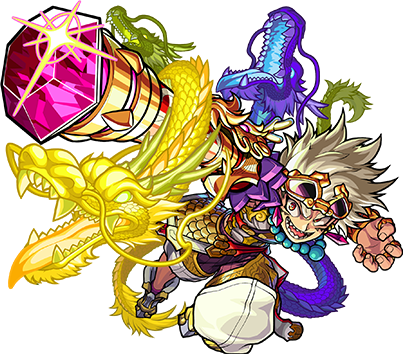 JP Name
-
JP #
2375
Class
Demon
Element
Gender
-
Rarity
-

Sling
Pierce
Max Luck
99
Type
Power
Rating
-
Ability
Vivolith Slayer L
Gauge
Null Block
HP
21208 (+4200) = 25408
Obtain
-
ATK
26607 (+3925) = 30532 (36638 w/ Gauge)
SPD
224.77 (+34) = 258.77
Luck Skill
Badge
Strike Shot
Monkey Dragon Magic - 8 Turns
Rebound off enemies and dance across the battlefield!
Bump Combo
Wave (59058)
Attacks with 2 non-elemental waves.

Sub Bump

To Evo

15 Light Sharls
30 Light Stoans
90 Maxstoans
Strengths
Effective against Vivolith enemies, especially the Eyeballs in Tsukuyomi: Zero
Weakness
Ableberries
Class Kinspeed - Covers his low SPD
Class Kinstrength - Increases damage towards Vivolith enemies
Viable Quests

Impossibles/Colossals: Tsukuyomi: Zero


Fire:


Water:


Wood:


Light: Marshal Titanium


Dark: Blizzaga

Tower:

Temple: Water (Time) | Wood (Carnage) | Light (Carnage)
Legendary Weapons 2 Series

Hatcher Monsters

Magma

Mjölnir

Chief of Staff
Drop Monsters

Bucky Noodle

Bell Joya 108

Senko Serenader

Cleaning Commando
[Savage] Guide
[Lethal] Guide
[Extreme] Guide
[Extreme] Guide
Ad blocker interference detected!
Wikia is a free-to-use site that makes money from advertising. We have a modified experience for viewers using ad blockers

Wikia is not accessible if you've made further modifications. Remove the custom ad blocker rule(s) and the page will load as expected.