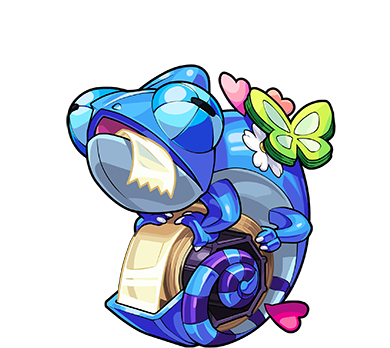 JP Name
-
JP #
1919
Class
Beast
Element
Gender
-
Rarity
-

Sling
Bounce
Max Luck
72
Type
Balanced
Rating
-
Ability
Null Damage Wall
Gauge
-
HP
7063 (+1400) = 8463
Obtain
-
ATK
6435 (+625) = 7060
SPD
216.87 (+21.25) = 238.12
Luck Skill
-
Badge
Strike Shot
Just a Piece - 20 Turns
Launches a pulse attack in the targeted direction.
Bump Combo
Homing Shot 8 (2583)
Randomly targets foes with 8 elemental shots.

To Evo

1 Blue Sharls
5 Blue Stoans
10 Maxstoans
30 Stoans

Material For

Typera
Super Adhesive Chameletape (Evolution)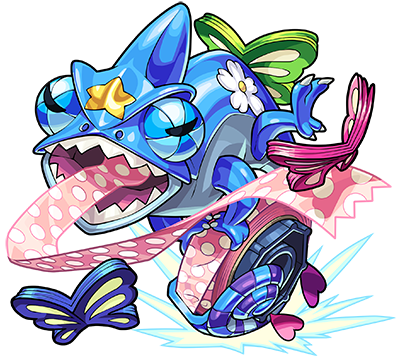 JP Name
-
JP #
1920
Class
Beast
Element
Gender
-
Rarity
-

Sling
Bounce
Max Luck
90
Type
Balanced
Rating
-
Ability
Null Damage Wall
Gauge
Strike Shot Reducer
HP
12239 (+2460) = 14699
Obtain
-
ATK
9733 (+3300) = 13033 (15639 w/ Gauge)
SPD
251.57 (+88.4) = 339.97
Luck Skill
-
Badge
Strike Shot
Flick of Stick - 20 Turns
Fires a laser in the targeted direction, then attacks with a homing shot.
Bump Combo
Homing Shot 12 (3075)
Randomly targets foes with 12 elemental shots.
Strengths
SS Reducer makes it faster to shoot his SS
Weakness
Ad blocker interference detected!
Wikia is a free-to-use site that makes money from advertising. We have a modified experience for viewers using ad blockers

Wikia is not accessible if you've made further modifications. Remove the custom ad blocker rule(s) and the page will load as expected.