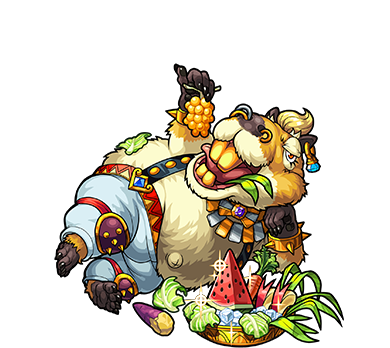 JP Name
-
JP #
1956
Class
Beast
Element
Gender
-
Rarity
-

Sling
Bounce
Max Luck
72
Type
Balanced
Rating
-
Ability
Null Warp
Gauge
-
HP
7601 (+1400) = 9001
Obtain
-
ATK
7006 (+675) = 7681
SPD
173.17 (+17) = 190.17
Luck Skill
-
Badge
Strike Shot
Capyba Luxury - 15 Turns
Bashes the first contacted enemy and sends it flying.
Bump Combo
Super Blast (6560)
Attacks with a large, non-elemental blast around the user.

To Evo

1 Light Sharl
5 Light Stoans
10 Maxstoans
30 Stoans

Material For

Iris
Giraffina
Koalius
Craven Merchant Capybarry (Evolution)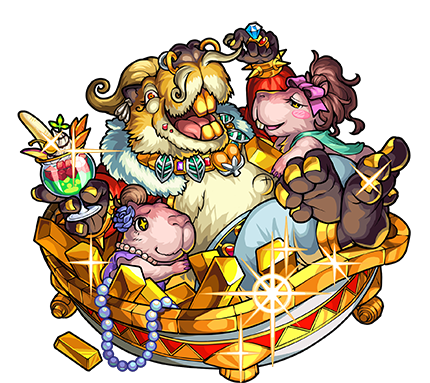 JP Name
-
JP #
1957
Class
Beast
Element
Gender
-
Rarity
-

Sling
Bounce
Max Luck
90
Type
Balanced
Rating
-
Ability
Null Wind
Gauge
Null Warp
HP
11913 (+2460) = 14373
Obtain
-
ATK
8938 (+3050) = 11988 (14385 w/ Gauge)
SPD
200.9 (+70.55) = 271.45
Luck Skill
Badge
Strike Shot
Never Enough Gold - 20 Turns
Deals a ton of damage on contact with enemy weak point.
Bump Combo
Mega Blast (7653)
Attacks with a very large, non-elemental blast around the user.
Strengths
Weakness
Low ATK to deal any damage with normal attacks
Flower Series 2

Hatcher Monsters

Dahlia

Iris

Rosa
Drop Monsters

Giraffina

Koalius

Garzelle

Capybarry

Zebralizer
[Extreme] Guide
[Extreme] Guide
[Savage] Guide
[Savage] Guide
[Savage] Guide
Ad blocker interference detected!
Wikia is a free-to-use site that makes money from advertising. We have a modified experience for viewers using ad blockers

Wikia is not accessible if you've made further modifications. Remove the custom ad blocker rule(s) and the page will load as expected.