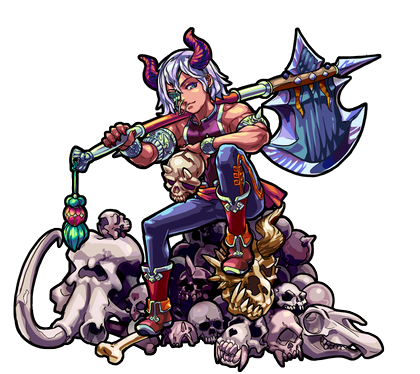 JP Name
-
JP #
1246
Class
Fiend
Element
Gender
-
Rarity
-

Sling
Bounce
Max Luck
90
Type
Speed
Rating
-
Ability
Null Warp
Gauge
-
HP
13188 (+0) = 13188
Obtain
-
ATK
12963 (+0) = 12963
SPD
276.93 (+0) = 276.93
Luck Skill
-
Badge
Strike Shot
Dark Awakening - 15 Turns
Bashes the first contacted enemy and sends it flying.
Bump Combo
Homing Shot 12 (3075)
Randomly targets foes with 12 elemental shots.

To Evo

1 Divine Sharl
5 Dark Sharls
10 Dark Stoans
30 Maxstoans

To Asc

Princess Iron Fan (2)
Silver Horn (2)
Red Boy (1)
Golden Horn (1)
Recommended Form - Ascension
Great Sage Bull Demon King (Evolution)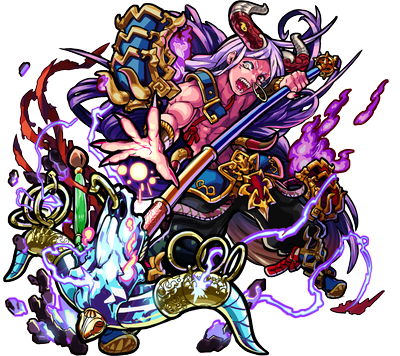 JP Name
-
JP #
1247
Class
Fiend
Element
Gender
-
Rarity
-

Sling
Bounce
Max Luck
99
Type
Speed
Rating
-
Ability
Null Warp
Gauge
-
HP
16318 (+3900) = 20218
Obtain
-
ATK
18394 (+5575) = 23969
SPD
280.43 (+99.45) = 379.88
Luck Skill
Badge
Strike Shot
Ironwood Slap - 16 Turns
Bashes the first contacted enemy and sends it flying.
Bump Combo
Homing Destruction 8 (10981)


Randomly targets foes with 8 powerful elemental shots.

To Asc

Princess Iron Fan (1)
Silver Horn (2)
Red Boy (1)
Golden Horn (1)
Strengths
Weakness
Ableberries
Class Kinvigor - Increases his HP
Class Kinstrength - Increases SS damage
Viable Quests

Impossibles/Colossals: Izanagi


Fire: Captain Mica


Water: Louis XII


Wood: Tokugawa Yoshinobu


Light:


Dark: Vanilla the Witch | Geppetto

Tower:

Temple: Water (Time) | Water (Carnage | Wood (Time) | Wood (Carnage)
Titanic Bull Demon King (Ascension)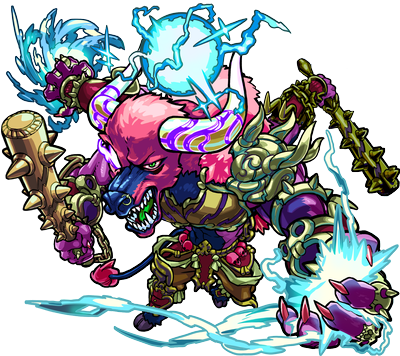 JP Name
-
JP #
1248
Class
Fiend
Element
Gender
-
Rarity
-

Sling
Bounce
Max Luck
99
Type
Power
Rating
-
Ability
Null Damage Wall
Gauge
Strike Shot Reducer
HP
20342 (+4200) = 24542
Obtain
-
ATK
19722 (+8650) = 28372 (34046 w/ Gauge)
SPD
139.60 (+49.30) = 188.90
Luck Skill
Badge
Strike Shot
Bovine Bedlam - 26 Turns
Leads teammates against the enemy.
Bump Combo
Lock-on Shockwave 6 (12993)
Attacks with 6 non-elemental shockwaves.

Sub Bump

Ex Laser S (2706)
Attacks in a X pattern with small elemental lasers.

To Evo

15 Dark Sharls
30 Dark Stoans
90 Maxstoans
Strengths
Command SS that can be shortened
Weakness
Low SPD to make use of his Command SS
Ableberries
Class Kinstrength - Increases his high ATK stat
Class Kinspeed - Makes it easier to hit allies with SS
Viable Quests

Impossibles/Colossals:


Fire:


Water:


Wood: PC-G3 | Tengu


Light: Jack | Zashiki Warashi


Dark:

Tower:

Temple: Water (Time) | Water (Carnage | Wood (Time) | Wood (Carnage) | Light (Carnage) | Dark (Time)
Ad blocker interference detected!
Wikia is a free-to-use site that makes money from advertising. We have a modified experience for viewers using ad blockers

Wikia is not accessible if you've made further modifications. Remove the custom ad blocker rule(s) and the page will load as expected.