JP Name
-
JP #
2540
Class
Demihume
Element
Gender
-
Rarity
-

Sling
Pierce
Max Luck
90
Type
Balanced
Rating
-
Ability
Null Warp
Gauge
-
HP
15303 (+0) = 15303
Obtain
-
ATK
16775 (+0) = 16775
SPD
253.53 (+0) = 253.53
Luck Skill
-
Badge
-
Strike Shot
チューイン・ゴーアヘッド - 21 Turns
Creates four images that terrorize the battlefield.
Bump Combo
Lock-on Piercewave 6 (13259)
Attacks foes with 6 non-elemental piercewaves.

To Evo

1 Divine Sharl
5 Green Sharls
10 Green Stoans
30 Maxstoans

Material For

Elizabeth I
Lady Tomoe
Calamity Jane
Bubble Boy (Evolution)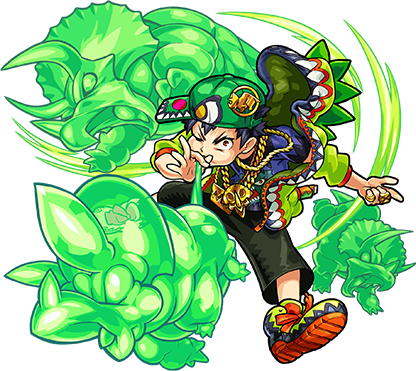 JP Name
-
JP #
2541
Class
Demihume
Element
Gender
-
Rarity
-

Sling
Pierce
Max Luck
99
Type
Balanced
Rating
-
Ability
Null Wind
Gauge
Null Warp
HP
 16696 (+3900) = 20596
Obtain
-
ATK
16219 (+5550) = 21769 (26123 w/ Gauge)
SPD
236.80 (+84.15) = 320.95
Luck Skill
Badge
-
Strike Shot
アタック・ザ・ガムケラトプス - 21 Turns
Creates four images that terrorize the battlefield.
Bump Combo
Lock-on Piercewave 6 (18562)
Attacks foes with 6 non-elemental piercewaves.
Strengths
Weakness
Null Wind not very useful
21 Turn CD on SS but can only be used after 24 Turns when set as your max luck
Viable Quests

Impossibles/Colossals: Nirai Kanai | Doom


Fire:


Water: Sima Yi | Louis XIII | Schubert


Wood:


Light: Origami | Bright Blight


Dark: Bull Demon King | Vanilla

Tower:

Temple:
Brave Girls Series

Hatcher Monsters

Elizabeth I

Lady Tomoe

Calamity Jane
Drop Monsters

Cream Monster

Bubble Boy

Sweet Deer

Domyoji Anko
[Savage] Guide
[Extreme] Guide
[Extreme] Guide
[Lethal] Guide
Ad blocker interference detected!
Wikia is a free-to-use site that makes money from advertising. We have a modified experience for viewers using ad blockers

Wikia is not accessible if you've made further modifications. Remove the custom ad blocker rule(s) and the page will load as expected.