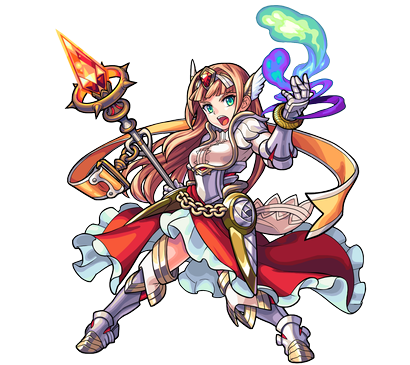 JP Name
-
JP #
1556
Class
Paladin
Element
Gender
-
Rarity
-

Sling
Bounce
Max Luck
90
Type
Speed
Rating
-
Ability
Mine Sweeper
Gauge
-
HP
12746 (+2460) = 15206
Obtain
-
ATK
11963 (+1150) = 13113
SPD
226.9 (+22.1) = 249
Luck Skill
-
Badge
Strike Shot
Summons to Valhalla - 12 Turns
Increases Speed.
Bump Combo
Speed Up (0)
Grants a speed boost to teammates.

To Evo

1 Divine Sharl
5 Red Sharls
10 Red Stoans
30 Maxstoans

To Asc

Sanma (3)
Dragonfly (3)
Recommended Form - Evolution
Effective against Demon enemies, especially Zombies and Ability Lock mobs
Soul Warrior Brynhildr (Evolution)
JP Name
-
JP #
1557
Class
Paladin
Element
Gender
-
Rarity
-

Sling
Bounce
Max Luck
99
Type
Balanced
Rating
-
Ability
Demon Slayer L
Gauge
Null Warp
HP
20160 (+3900) = 24060
Obtain
-
ATK
18452 (+2400) = 20852 (25023 w/ Gauge)
SPD
258.6 (+39.1) = 297.7
Luck Skill
Badge
Strike Shot
The Reins of Grani - 22 Turns
Increases Speed and Strength and enables Counter Mode.
Bump Combo
Lightning (15360)
Randomly strikes foes with 6 bolts of lightning.

To Asc

Sanma (2)
Dragonfly (2)
Strengths
Effective against Demon enemies and Bump Combo procs it
Weakness
Ableberries
Sidekick - Increase damage of Lightning that procs Slayer
Class Kinstrength - Increase damage dealt to Demon enemies
Viable Quests

Impossibles/Colossals: Izanagi: Zero


Fire:


Water:


Wood: Zhang Jiao | Medusa | Issun | Jiraiya | Tokugawa Yoshinobu | Biollante | Halloweena | Meng Huo


Light: Ghoulie | Scyllara


Dark: Cybele | Bull Demon King | Vanilla | Karasu

Tower: 34F

Temple: Wood (Time) | Wood (Carnage)
Pristine Maiden Brynhildr (Ascension)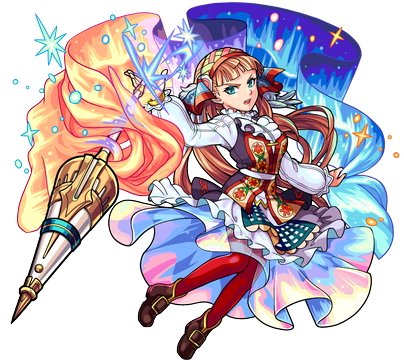 JP Name
-
JP #
1558
Class
Paladin
Element
Gender
-
Rarity
-

Sling
Bounce
Max Luck
99
Type
Speed
Rating
-
Ability
Mine Sweeper / Null Magic Circle
Gauge
-
HP
16208 (+4200) = 20408
Obtain
-
ATK
22443 (+3275) = 25718
SPD
339.83 (+51.85) = 391.68
Luck Skill
Badge
Strike Shot
Geirscögul's Aurora - 18 Turns
Greatly increases Speed and Strength and does a lot of damage to Drones.
Bump Combo
Speed Up (0)
Grants a speed boost to teammates.

Sub Bump

To Evo

15 Red Sharls
30 Red Stoans
90 Maxstoans
Strengths
Speed Up boosts allies to do more damage
Weakness
Low damage output overall
Ableberries
Class Kinstrength - Increase damage dealt to enemies
Viable Quests

Impossibles/Colossals:Marishiten


Fire: Roc


Water:


Wood: Halloweena | Zhang Jiao | Issun | Gigamantis | Green Goblin


Light:


Dark:

Tower:

Temple: Fire (Time) | Fire (Carnage) | Wood (Carnage) | Light (Time)
Ad blocker interference detected!
Wikia is a free-to-use site that makes money from advertising. We have a modified experience for viewers using ad blockers

Wikia is not accessible if you've made further modifications. Remove the custom ad blocker rule(s) and the page will load as expected.