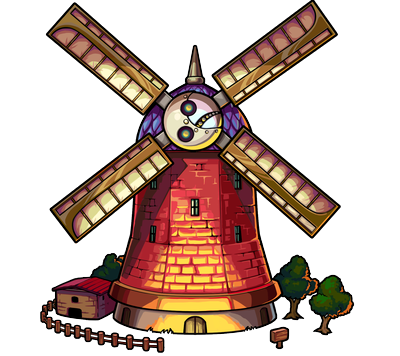 JP Name
-
JP #
1786
Class
Mech
Element
Gender
-
Rarity
-

Sling
Bounce
Max Luck
90
Type
Balanced
Rating
-
Ability
Null Warp
Gauge
-
HP
12244 (+0) = 12244
Obtain
-
ATK
12675 (+0) = 12675
SPD
248.63 (+0) = 248.63
Luck Skill
-
Badge
Strike Shot
Wind of La Mancha - 18 Turns
Bashes the first contacted enemy
Bump Combo
Ex Laser M (4735)
Attacks in an X pattern with 4 medium-sized elemental lasers.

To Evo

1 Divine Sharl
5 Red Sharls
10 Red Stoans
30 Maxstoans

To Asc

Kay (2)
Prima Donna (2)
Director Monsieur (2)

Material For

Artica the Snow Queen
Don Quixote
Phantom
Kay
Recommended Form - Ascension
Ascension slays a number of Bosses as well as mobs
Gust Giant Briareus (Evolution)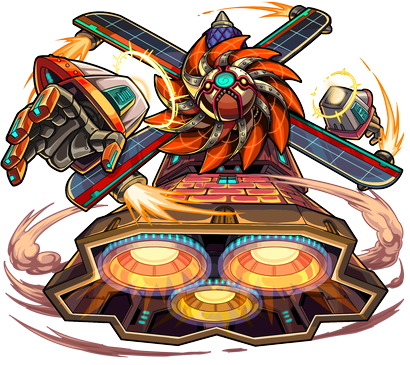 JP Name
-
JP #
1787
Class
Mech
Element
Gender
-
Rarity
-

Sling
Bounce
Max Luck
99
Type
Balanced
Rating
-
Ability
Flight / Null Wind
Gauge
-
HP
17348 (+3900) = 21248
Obtain
-
ATK
22639 (+7750) = 30389
SPD
222.10 (+79.05) = 301.15
Luck Skill
Badge
Strike Shot
La Mancha Blaster - 21 Turns
Fires a laser in the targeted direction, then attacks with a homing shot.
Bump Combo
Ex Laser L (6187)
Attacks in an X pattern with 4 large elemental lasers.

To Asc

Kay (1)
Prima Donna (1)
Director Monsieur (1)
Strengths
Weakness
No real use for Null Wind
Ableberries
Class Kinstrength - Boosts his high ATK even more
Viable Quests

Impossibles/Colossals:


Fire:


Water:


Wood: Gomora


Light:


Dark:

Tower:

Temple: Fire (Carnage) | Wood (Carnage) | Light (Time)
Briareus the Bladed Colossus (Ascension)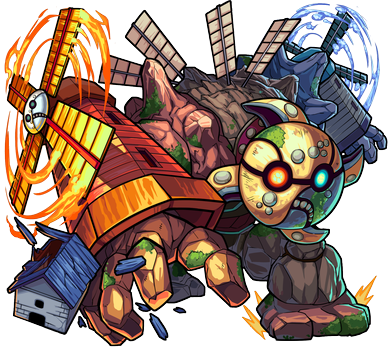 JP Name
-
JP #
1788
Class
Mech
Element
Gender
-
Rarity
-

Sling
Bounce
Max Luck
99
Type
Power
Rating
-
Ability
Demon Slayer M
Gauge
Null Warp
HP
18532 (+4200) = 22732
Obtain
-
ATK
20566 (+7075) = 27641 (33169 w/ Gauge)
SPD
156.60 (+55.25) = 211.85
Luck Skill
Badge
Strike Shot
Campo de Criptana - 13 Turns
Bashes the first contacted enemy and attacks with a laser.
Bump Combo
Vertical Laser L (8618)
Attacks upward and downward with 2 large elemental lasers.

Sub Bump

To Evo

15 Red Sharls
30 Red Stoans
90 Maxstoans
Strengths
Slayer for a number of mobs and Bosses
High converage from Bump Combos and it procs his Slayer
Weakness
Bump Combos are useless in dungeons with Laser Barriers
Ableberries
Class Kinstrength - Increases his ATK to deal more damage, especially to Demon enemies
Viable Quests

Impossibles/Colossals:


Fire:


Water:


Wood: Tokugawa Yoshinobu | Medusa | HIKAKIN | Biollante | Halloweena


Light: Ghoulie


Dark:

Tower:

Temple: Wood (Time) | Wood (Carnage)
Ad blocker interference detected!
Wikia is a free-to-use site that makes money from advertising. We have a modified experience for viewers using ad blockers

Wikia is not accessible if you've made further modifications. Remove the custom ad blocker rule(s) and the page will load as expected.