JP Name
毘沙門天
JP #
1150
Class
Fiend
Element
Gender
Female
Rarity
5★

Sling
Pierce
Max Luck
90
Type
Balanced
Rating
-
Ability
Null Gravity Barrier
Gauge
-
HP
13588 (+0) = 13588
Obtain
ATK
15453 (+0) = 15453
SPD
229.03 (+0) = 229.03
Luck Skill
-
Badge
-
Strike Shot
オン・ベイシラ・マンダヤ・ソワカ - 26 Turns
Attacks all enemies on contact with a glacial shower.
Bump Combo
Tag Laser L (12579)
Fires a large elemental laser in the bumping monster's direction of travel.

To Evo

2 Divine Sharls
10 Blue Sharls
20 Blue Stoans
60 Maxstoans

Material For

Nirai Kanai
Sapphire Guardian Bishamonten (Evolution)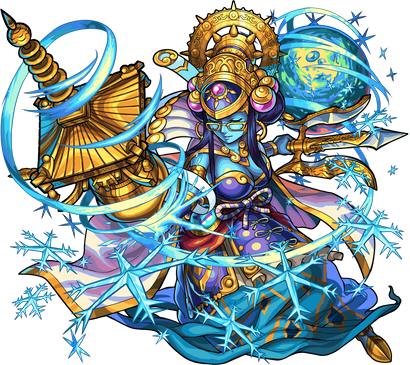 JP Name
蒼天守護 毘沙門天
JP #
1151
Class
Fiend
Element
Gender
Female
Rarity
6★

Sling
Bounce
Max Luck
99
Type
Balanced
Rating
8.0
Ability
Null Warp
Gauge
Null Gravity Barrier
HP
17405 (+3900) = 21305
Obtain
Evolution
ATK
16425 (+5650) = 22075 (26490 w/ Gauge)
SPD
237.10 (+84.15) = 321.25
Luck Skill
-
Badge
-
Strike Shot
降魔創天 - 30 Turns
Attacks all enemies on contact with a glacial shower.
Bump Combo
Tag Laser XL (41932)
Fires a massive elemental laser in the bumping monster's direction of travel.
Strengths
Strong bump combo
Double nulls
Pierce type meteor
Weakness
Bump combo requires positioning and skill to deal damage
Viable Quests
Impossibles/Colossals: Izanami | Izanagi | Nirvana | Cain | Avalon


Fire: Zuma | Astaroth | Leopoint | Jin | Solwing | Tiger I | Daisy | Gargoyle | Hydra | Queen of Hearts | Fire Wyrm | Max Murai | Fireblade Murasame | Briareus | Giraffina | Shen Gongbao | Surtr | Wyatt Earp | Destroyah | Momotaro | Zetton | Fire Apprentice Santa Noel


Water: Schubert | Azure Blade Muramasa | Lupin the Third | Kraken | Eva-13 | Louis XIII


Wood:

Light: Radiant Blade Muramasa | Kii | Fenrir | Minamoto no Yoritomo | Da Vinci x 10th Angel | Orochimaru | Princess Nokko | Lightblade Murasame | Ghoulie | 10th Angel

Dark: Shadow Blade Muramasa | M.Bison | Space Whale Geppetto | Bull Demon King | Kabushido | Deathscoil x 9th Angel | Visceron

Tower: 27F | 30F | 35F

Temple: Fire (Time) | Water (Time) | Dark (Carnage)
Impossibles

1st Round

Izanami
[Guide]

Yamato Takeru
[Guide]

Kushinada
[Guide]

Izanagi
[Guide]

Tsukuyomi
[Guide]
2nd Round

Ashura
[Guide]

Bishamonten
[Guide]

Marici
[Guide]

Daikoku
[Guide]

Acala
[Guide]
Zero

Izanami: Zero
[Guide]

Yamato: Zero
[Guide]

Kushinada: Zero
[Guide]

Izanagi: Zero
[Guide]

Tsukuyomi: Zero
[Guide]
War Gods

Nirvana
[Guide]

Doom
[Guide]

Memento Mori
[Guide]

Karma
[Guide]

Akasha
[Guide]
3rd Round

Cain
[Guide]

Lu Bu
[Guide]

Brutus
[Guide]
Ad blocker interference detected!
Wikia is a free-to-use site that makes money from advertising. We have a modified experience for viewers using ad blockers

Wikia is not accessible if you've made further modifications. Remove the custom ad blocker rule(s) and the page will load as expected.