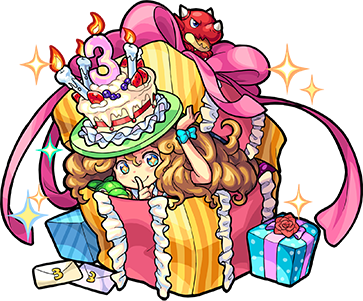 JP Name
バースデー
JP #
2237
Class
Sprite
Element
Gender
Female
Rarity
5★

Sling
Bounce
Max Luck
90
Type
Balanced
Rating
6.0
Ability
-
Gauge
-
HP
14315 (+0) = 14315
Obtain
ATK
10505 (+0) = 10505
SPD
248.3 (+0) = 248.3
Luck Skill
-
Badge
Strike Shot
Surprise! - 18 Turns
Launches three pulses in the targeted direction.
Bump Combo
Pan-Elemental Homing Shot 15 (2938)
Targets foes with 15 all-elemental shots.

To Evo

1 Divine Sharl
5 Light Sharls
10 Light Stoans
30 Maxstoans
Happy Birthday (Evolution)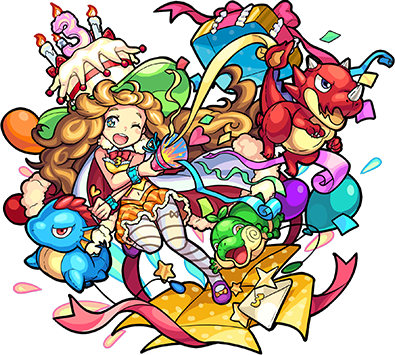 JP Name
ハッピーガール バースデー
JP #
2238
Class
Sprite
Element
Gender
Female
Rarity
6★

Sling
Bounce
Max Luck
99
Type
Balanced
Rating
6.0
Ability
-
Gauge
Null Gravity Barrier / Null Damage Wall
HP
19433 (+3900) = 23333
Obtain
Evolution
ATK
14494 (+4950) = 19444 (23333 w/ Gauge)
SPD
246.63 (+86.7) = 333.33
Luck Skill
Badge
Strike Shot
Celebration Extravaganza - 21 Turns
Launches three pulses in the targeted direction.
Bump Combo
Pan-Elemental Homing-struction 10 (9883)
Targets foes with 10 powerful all-elemental shots.
Strengths
Two Null Abilities
Bump Combo great for mob clearing
Weakness
Very fast Gauge for Null Abilities
Low SS damage and hard to hit all 3 lasers
Viable Quests

Impossibles/Colossals: Tsukuyomi | Yomi


Fire: Fire Wyrm | Mordred


Water: Nurarihyon


Wood: Pencil Base


Light: Kii


Dark: Da Vinci | Visceron | Dark Wyrm | Inari | Spookat

Tower:

Temple:
Ad blocker interference detected!
Wikia is a free-to-use site that makes money from advertising. We have a modified experience for viewers using ad blockers

Wikia is not accessible if you've made further modifications. Remove the custom ad blocker rule(s) and the page will load as expected.