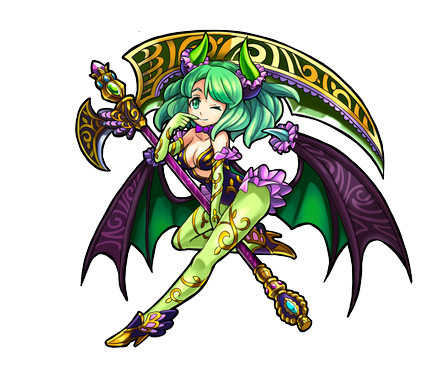 JP Name
ベルフェゴール
JP #
623
Class
Demon
Element
Gender
Female
Rarity
5★

Sling
Bounce
Max Luck
90
Type
Balanced
Rating
-
Ability
Null Warp
Gauge
-
HP
12241 (+2460) = 14701
Obtain
Hatcher
ATK
15433 (+2250) = 17683
SPD
235.3 (+34.85) = 270.15
Luck Skill
-
Badge
Strike Shot
Baleful Storm - 13 Turns
Unleashes magic to increase Speed.
Bump Combo
Homing Shot 12 (3075)
Randomly targets foes with 12 elemental shots.

To Evo

1 Divine Sharl
5 Green Sharls
10 Green Stoans
30 Maxstoans

To Asc

Belial (4)
Lilith (2)
Mephisto (1)
Recommended Form - Ascension
Indolent Demon Belphegor (Evolution)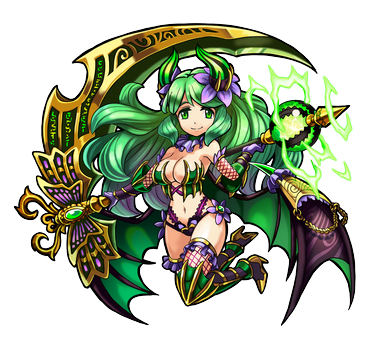 JP Name
怠惰の悪魔ベルフェゴール
JP #
624
Class
Demon
Element
Gender
Female
Rarity
6★

Sling
Bounce
Max Luck
99
Type
Balanced
Rating
6.5
Ability
Null Damage Wall
Gauge
-
HP
19940 (+3900) = 23840
Obtain
Evolution
ATK
26400 (+3875) = 30275
SPD
276.6 (+41.65) = 318.25
Luck Skill
Badge
Strike Shot
Decrepit Teachings - 18 Turns
Unleashes magic to fire a cruciform cannon.
Bump Combo
One-Way Laser XL (24255)
Attacks upward with a massive elemental laser.

To Asc

Belial (3)
Lilith (1)
Mephisto (1)
Strengths
Weakness
Low SS damage
Only one Null Ability
Ableberries
Sidekick - Increases Bump Combo damage
Viable Quests

Impossibles/Colossals:


Fire:


Water: Okita Soji | Queen Butterflight | Lilith | Taira no Kiyomori | Origa


Wood: Windblade Murasame


Light:


Dark:

Tower:

Temple: Water (Time) | Water (Carnage) | Wood (Time) | Wood (Carnage) | Light (Carnage)
Belphegor Marvelmaker (Ascension)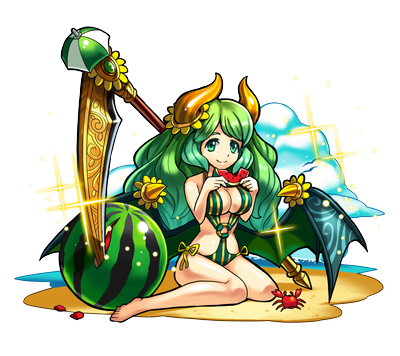 JP Name
金星の悪魔ベルフェゴール
JP #
625
Class
Demon
Element
Gender
Female
Rarity
6★

Sling
Bounce
Max Luck
99
Type
Balanced
Rating
8.5
Ability
Null Warp
Gauge
Water Slayer
HP
17735 (+4200) = 21935
Obtain
Ascension
ATK
21578 (+3150) = 24728 (29674 w/ Gauge)
SPD
292.83 (+44.2) = 337.03
Luck Skill
Badge
Strike Shot
Glorified Sloth - 18 Turns
Unleashes magic to increase Speed and Strength.
Bump Combo
Homing Shot 18 (3294)
Randomly targets foes with 18 powerful elemental shots.

Sub Bump

To Evo

15 Green Sharls
30 Green Stoans
90 Maxstoans
Strengths
Effective against all Water enemies
SS amplifies her stats to deal high damage
Weakness
Ableberries
Class Kinstrength - Increases her Slayer damage
Knockout - Synergizes well with SS
Viable Quests

Impossibles/Colossals: Izanagi | Nirai Kanai | Doom


Fire:


Water: Louis XIII | ZENIGATA | Taira no Kiyomori | Ra x 6th Angel | Origa | Kay | Koalius | Alien Baltan | Godzilla x Eva-13 | Schubert | Younger Toguro | Younger Toguro 100% | Sima Yi | Jabberwock


Wood:


Light: Typhon


Dark: Vanilla the Witch

Tower: 22F

Temple: Water (Time) | Water (Carnage) | Wood (Time) | Wood (Carnage)
Devilish Defenders Series

Hatcher Monsters

Asmodeus

Leviathan

Belphegor

Beelzebub

Satan
Drop Monsters

Astaroth

Lilith

Belial

Mephisto

Samael
[Extreme] Guide
[Extreme] Guide
[Savage] Guide
[Savage] Guide
[Savage] Guide
Ad blocker interference detected!
Wikia is a free-to-use site that makes money from advertising. We have a modified experience for viewers using ad blockers

Wikia is not accessible if you've made further modifications. Remove the custom ad blocker rule(s) and the page will load as expected.