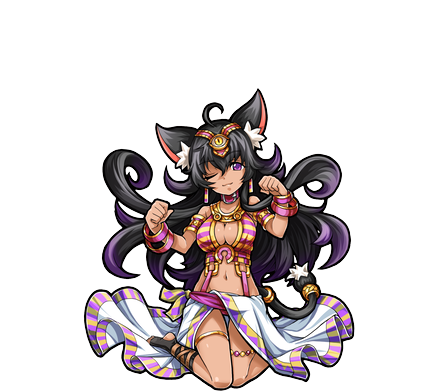 JP Name
-
JP #
611
Class
Deity
Element
Gender
-
Rarity
-

Sling
Bounce
Max Luck
90
Type
Balanced
Rating
-
Ability
Mine Sweeper
Gauge
-
HP
14720 (+0) = 14720
Obtain
-
ATK
17161 (+0) = 17161
SPD
268.03 (+0) = 268.03
Luck Skill
-
Badge
Strike Shot
Kitty Glitter - 18 Turns
Uses divine cat power to increase Speed and Strength.
Bump Combo
Lock-on Shockwave 6 (13259)


Attacks with 6 non-elemental shockwaves.

To Evo

1 Divine Sharl
5 Dark Sharls
10 Dark Stoans
30 Maxstoans

To Asc

Serket (4)
Hathor (2)

Material For

Osiris
Anubis
Ra
Serket
Fox Metal
Recommended Form - Ascension
More uncommon Mine Sweeper from farmables
Cat Goddess Bastet (Evolution)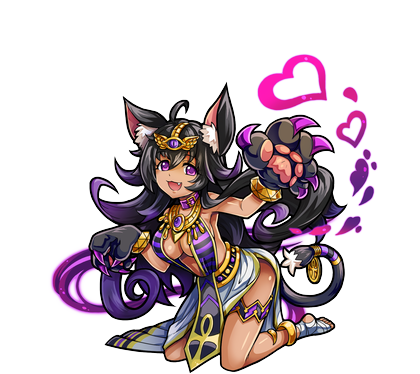 JP Name
-
JP #
612
Class
Deity
Element
Gender
-
Rarity
-

Sling
Bounce
Max Luck
99
Type
Speed
Rating
-
Ability
Sprite Slayer
Gauge
Null Damage Wall
HP
14483 (+3900) = 18383
Obtain
-
ATK
14547 (+4975) = 19522 (23426 w/ Gauge)
SPD
293.83 (+103.70) = 397.53
Luck Skill
Badge
Strike Shot
Stray Cat - 16 Turns


Bashes the first contacted enemy and sends it flying with powerful paws.

Bump Combo
Lock-on Shockwave 6 (18562)


Attacks with 6 non-elemental shockwaves.

To Asc

Serket (3)
Hathor (1)
Strengths
Effective against Sprite enemies and procs her Bump Combo
High SS damage
Weakness
Ableberries
Class Kinstrength - Increases SS and Slayer damage
Class Kinvigor - Covers her low HP
Viable Quests

Impossibles/Colossals:


Fire: Fireblade Murasame


Water:


Wood: Snowman


Light: Zashiki Warashi | Jack | Birthday | Lightblade Murasame


Dark: Darkblade Murasame

Tower:

Temple: Water (Time) | Wood (Carnage) | Light (Carnage) | Dark (Time)
Harvest Goddess Bastet (Ascension)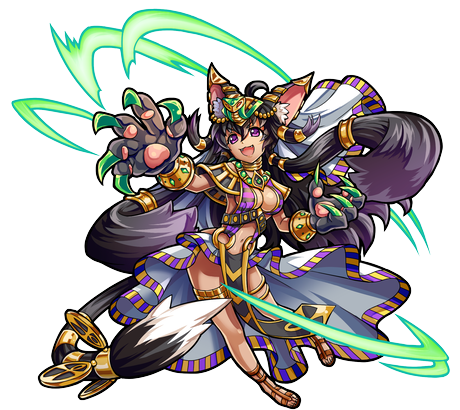 JP Name
-
JP #
613
Class
Deity
Element
Gender
-
Rarity
-

Sling
Bounce
Max Luck
99
Type
Balanced
Rating
-
Ability
Mine Sweeper
Gauge
HP
16798 (+4200) = 20998
Obtain
-
ATK
21674 (+7400) = 29074
SPD
242.83 (+85.85) = 328.68
Luck Skill
Badge
Strike Shot
Pharaoh's Guerdian - 16 Turns
Bashes the first contacted enemy and sends it flying with powerful paws.
Bump Combo
Lock-on Shockwave 6 (18562)


Attacks with 6 non-elemental shockwaves.

Sub Bump

To Evo

15 Dark Sharls
30 Dark Stoans
90 Maxstoans
Strengths
Uncommon Mine Sweeper from farmables
High SS damage
Weakness
Ableberries
Class Kinstrength - Increases SS and Slayer damage
Class Kinvigor - Covers her low HP
Viable Quests

Impossibles/Colossals: Izanami: Zero | Yamato Takeru: Zero


Fire: Roc


Water:


Wood: Jiraiya | Gigamantis | Green Goblin


Light: Light Noel | Vishnu | Kesalan Patharan


Dark: Slash | Godzilla & Eva-01

Tower:

Temple: Fire (Carnage) | Water (Time) | Wood (Carnage) | Light (Time)
Warriors of Amun Series

Hatcher Monsters

Osiris

Anubis

Isis

Ra

Horus
Drop Monsters

Set

Amun

Serket

Hathor

Bastet
[Savage] Guide
[Savage] Guide
[Extreme] Guide
[Savage] Guide
[Extreme] Guide
Ad blocker interference detected!
Wikia is a free-to-use site that makes money from advertising. We have a modified experience for viewers using ad blockers

Wikia is not accessible if you've made further modifications. Remove the custom ad blocker rule(s) and the page will load as expected.