JP Name
阿修羅
JP #
1037
Class
Mech
Element
Gender
Female
Rarity
5★

Sling
Bounce
Max Luck
90
Type
Power
Rating
-
Ability
Mine Sweeper
Gauge
-
HP
12060 (+0) = 12060
Obtain
ATK
20096 (+0) = 20096
SPD
141.67 (+0) = 141.67
Luck Skill
-
Badge
-
Strike Shot
永遠の黄泉還り - 16 Turns
Strikes the first contacted enemy and sends it flying.
Bump Combo
Rebound Spread XL3 (1406)
Fires three 16-way sprays of massive, rebounding elemental bullets.

To Evo

2 Divine Sharls
10 Red Sharls
20 Red Stoans
60 Maxstoans

Material For

Avalon
Justice Seeker Ashura (Evolution)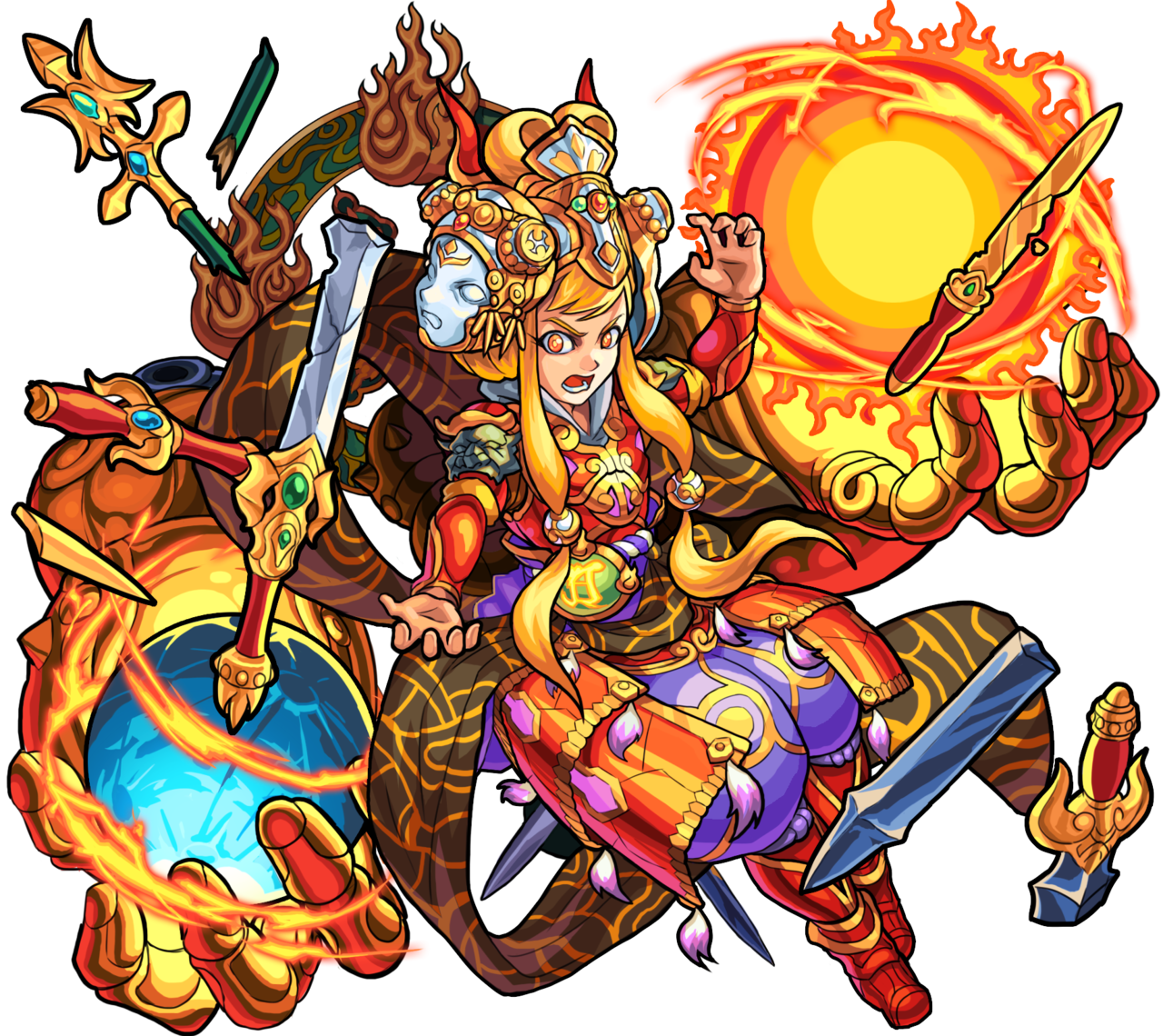 JP Name
非天 阿修羅
JP #
1038
Class
Mech
Element
Gender
Female
Rarity
6★

Sling
Bounce
Max Luck
99
Type
Power
Rating
8.0
Ability
Mine Sweeper / Null Gravity Barrier
Gauge
-
HP
16165 (+3900) = 20065
Obtain
Evolution
ATK
30002 (+10325) = 40327
SPD
156.53 (+55.25) = 211.78
Luck Skill
-
Badge
-
Strike Shot
紅緋・修羅縛 - 24 Turns
Repeatedly explodes on enemy contact, damaging all foes in the vicinity.
Bump Combo
Rebound Spread Shot XL3 (1698)
Fires three 16-way sprays of massive, rebounding elemental bullets.
Strengths
Double Null Abilities
SS good for mob clearing
Weaknesses
Low SPD to make use of SS
Low Bump Combo damage
Viable Quests
Impossibles/Colossals: Izanami: Zero | Acala | Marici | Shambhala | Memento Mori


Fire: Roc | Burst | Zeami


Water:


Wood: Zhang Jiao | Gigamantis | Poltergeist | Mine Fujiko | Florrior | Wood Noel | Rot-Dog Willy | Emerald Blade Muramasa | Jiraiya | Wen Zhong | Gomorra | Green Goblin | Halloweena | Kevin Verdure

Light: 10th Angel | Verona | Light Noel | Cardinal Richelieu

Dark: Slash | Deathscoil | Shadow Blade Muramasa | Melonhead | Tadakatsu Honda

Tower: 28F | 35F

Temple: Fire (Time) | Fire (Carnage) | Wood (Carnage) | Light (Time Trial) | Dark (Carnage)
Impossibles

1st Round

Izanami
[Guide]

Yamato Takeru
[Guide]

Kushinada
[Guide]

Izanagi
[Guide]

Tsukuyomi
[Guide]
2nd Round

Ashura
[Guide]

Bishamonten
[Guide]

Marici
[Guide]

Daikoku
[Guide]

Acala
[Guide]
Zero

Izanami: Zero
[Guide]

Yamato: Zero
[Guide]

Kushinada: Zero
[Guide]

Izanagi: Zero
[Guide]

Tsukuyomi: Zero
[Guide]
War Gods

Nirvana
[Guide]

Doom
[Guide]

Memento Mori
[Guide]

Karma
[Guide]

Akasha
[Guide]
3rd Round

Cain
[Guide]

Lu Bu
[Guide]

Brutus
[Guide]
Ad blocker interference detected!
Wikia is a free-to-use site that makes money from advertising. We have a modified experience for viewers using ad blockers

Wikia is not accessible if you've made further modifications. Remove the custom ad blocker rule(s) and the page will load as expected.