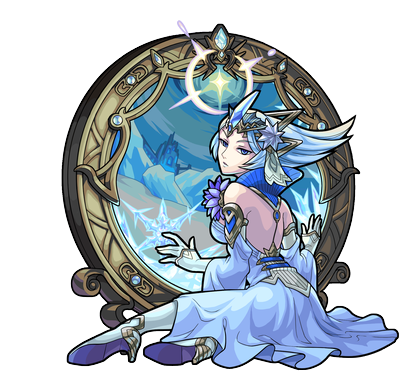 JP Name
-
JP #
1777
Class
Fiend
Element
Gender
-
Rarity
-

Sling
Bounce
Max Luck
90
Type
Blast
Rating
-
Ability
Null Gravity Barrier
Gauge
-
HP
10020 (+2460) = 12480
Obtain
-
ATK
18188 (+1775) = 19963
SPD
191.30 (+18.70) = 210.00
Luck Skill
-
Badge
Strike Shot
A Devil's Reflection - 12 Turns
Increases Speed.
Bump Combo
Homing Piercer 6 (2432)
Randomly targets foes with 6 elemental pass-through shots.

To Evo

1 Divine Sharl
5 Blue Sharls
10 Blue Stoans
30 Maxstoans

To Asc

Kay (3)
Briareus (2)
Recommended Form - Either
Ascension has the better Bump Combo and Strike Shot
Evolution is for high-level dungeons like 31F (Tower) and Arcadia (Colossal)
Iceshard Empress Artica (Evolution)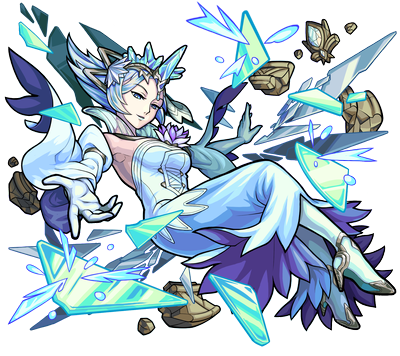 JP Name
-
JP #
1778
Class
Fiend
Element
Gender
-
Rarity
-

Sling
Bounce
Max Luck
99
Type
Blast
Rating
-
Ability
Null Gravity Barrier
Gauge
Null Block
HP
17598 (+3900) = 21498
Obtain
-
ATK
22598 (+3325) = 25923 (31107 w/ Gauge)
SPD
198.80 (+29.75) = 228.55
Luck Skill
Badge
Strike Shot
Frozen Heartstorm - 28 Turns
Paralyzes enemies on contact with weak points.
Bump Combo
Homing Piercer 8 (3345)
Randomly targets foes with 8 elemental pass-through shots.

To Asc

Kay (2)
Briareus (1)
Strengths
SS guarantees a paralyze when she hits the weak point
Water Null Block monster for Arcadia (Colossal)
Weakness
Low SPD that doesn't synergies with SS
Ableberries
Class Kinstrength - Can buff Baal who is a farmable monster for Arcadia
Cutthroat - Very useful in Arcadia to cut his giant HP
Viable Quests

Impossibles/Colossals: Tsukuyomi: Zero | Arcadia


Fire: Forty-Seven Ronin | Zuma | Fire Wyrm | Modred | Surtr | Solwing | Hydra | Momotaro | Giraffina | Queen of Hearts | Gargoyle


Water: Nurarihyon


Wood:


Light: Light Noel


Dark: Dark Wyrm

Tower: 31F

Temple: Fire (Time) | Water (Time) | Dark (Carnage)
Artica, Queen of Polaria (Ascension)
JP Name
-
JP #
1779
Class
Fiend
Element
Gender
-
Rarity
-

Sling
Bounce
Max Luck
99
Type
Blast
Rating
-
Ability
Mine Sweeper M
Gauge
-
HP
18835 (+4200) = 23035
Obtain
-
ATK
24712 (+3650) = 28362
SPD
228.57 (+34.00) = 262.57
Luck Skill
Badge
Strike Shot
Glacier Smile - 30 Turns
Attacks enemies on contact with an ice shower.
Bump Combo
Homing Piercer 8 (3345)
Randomly targets foes with 8 elemental pass-through shots.

Sub Bump

To Evo

15 Blue Sharls
30 Blue Stoans
90 Maxstoans
Strengths
Powerful Bump Combos for mob clearing
SS is useful in dungeons with a lot of mobs like Yamato Takeru: Zero
Weakness
Low SPD to make it difficult to hit all enemies during SS
Ableberries
Sidekick - Increases her high damaging Bump Combos
Survivor - Useful in high damaging dungeons like Izanami: Zero
Viable Quests

Impossibles/Colossals:Izanami: Zero | Yamato Takeru: Zero


Fire: Zuma | Surtr | Grey Alien | Burst | Roc | Rakshasa | Gremory


Water:


Wood:


Light: Roller Girl | Verona | Vishnu


Dark: Deathscoil | Honda Tadakatsu | Godzilla & Eva-00

Tower:

Temple: Fire (Time) | Fire (Carnage) | Water (Time) | Light (Time)
Ad blocker interference detected!
Wikia is a free-to-use site that makes money from advertising. We have a modified experience for viewers using ad blockers

Wikia is not accessible if you've made further modifications. Remove the custom ad blocker rule(s) and the page will load as expected.