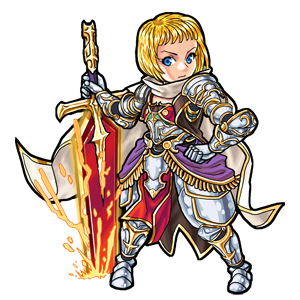 JP Name
アーサー
JP #
288
Class
Paladin
Element
Gender
Female
Rarity
5★

Sling
Bounce
Max Luck
90
Type
Balanced
Rating
Ability
Null Damage Wall
Gauge
-
HP
11457 (+2460) = 13917
Obtain
Hatcher
ATK
16574 (+2800) = 19374
SPD
266.33 (+48.96) = 315.29
Luck Skill
-
Badge
Strike Shot
Caliburn - 14 Turns
Strikes the first contacted enemy and attacks with a laser.
Bump Combo
Vertical Laser L (9471)
Attacks upward and downward with 2 large elemental lasers.

To Evo

1 Divine Sharl
5 Light Sharls
10 Light Stoans
30 Maxstoans

To Asc

Bright Blight (2)
I-400 (2)
Ghoulie (2)
Emerald Dragon (1)
Recommended Form - Ascension
Extra Null Gravity Barrier
Higher damaging Bump Combos
Queen Arthur (Evolution)
JP Name
騎士王 アーサー
JP #
289
Class
Paladin
Element
Gender
Female
Rarity
6★

Sling
Bounce
Max Luck
99
Type
Balanced
Rating
7.0
Ability
Null Damage Wall
Gauge
-
HP
18962 (+3900) = 22862
Obtain
Evolution
ATK
24528 (+2800) = 27328
SPD
273.67 (+76.16) = 349.83
Luck Skill
Badge
Strike Shot
Excalibur - 18 Turns
Fires a cruciform cannon in the targeted direction.
Bump Combo
One-way Laser XL (24255)
Attacks upward with a massive elemental laser.

To Asc

Bright Blight (1)
I-400 (1)
Ghoulie (1)
Emerald Dragon (1)
6★ Arthur of the Round Table (Ascension)
JP Name
円卓の騎士王 アーサー
JP #
1509
Class
Paladin
Element
Gender
Female
Rarity
6★

Sling
Bounce
Max Luck
99
Type
Balanced
Rating
9.0
Ability
Null Damage Wall / Null Gravity Barrier
Gauge
-
HP
17748 (+4200) = 21948
Obtain
Ascension
ATK
22565 (+3300) = 25865
SPD
255.57 (+38.25) = 293.82
Luck Skill
Badge
Strike Shot
Knights of the Round - 25 Turns
Launches a pulse attack in the targeted direction.
Bump Combo
Lock-on Laser XL (24255)
Attacks nearby enemies with massive elemental lasers.

Sub Bump

Cross Laser L (6187)
Attacks in an cross pattern with large elemental lasers.

To Evo

15 Light Sharls
30 Light Stoans
90 Maxstoans
6★ Arthur of the Round Table MV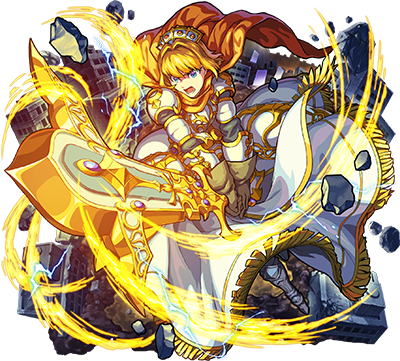 JP Name
円卓の騎士王 アーサー MV
JP #
2359
Class
Paladin
Element
Gender
Female
Rarity
6★

Sling
Bounce
Max Luck
99
Type
Balanced
Rating
9.0
Ability
Null Damage Wall / Null Gravity Barrier
Gauge
-
HP
17748 (+4200) = 21948
Obtain
Anime Hatcher
ATK
22565 (+3300) = 25865
SPD
255.57 (+38.25) = 293.82
Luck Skill
Badge
Strike Shot
Knights of the Round - 25 Turns
Launches a pulse attack in the targeted direction.
Bump Combo
Lock-on Laser XL (24255)
Attacks nearby enemies with massive elemental lasers.

Sub Bump

Cross Laser L (6187)
Attacks in an cross pattern with large elemental lasers.
Strengths
Powerful Bump Combo
Two Null Abilities
Weakness
Bump Combo can lock-on to unnecessary enemies like Shields and Drones
Ableberries
Sidekick - Increase Bump Combo damage
Cutthroat - Great for high HP Bosses in Tower
Viable Quests
Impossibles/Colossals: Ashura | Yamato Takeru | Izanami


Fire: Crimson Blade Muramasa | Mordred


Water: Okita Soji | Nurarihyon | Joker | Origa | Oruga | Kay | Tiger I | Azure Blade Muramasa


Wood: Poltergeist | PC-G3 | Pencil Base

Light: Cabaletta | Emerald Dragon | Kii | Radiant Blade Muramasa | Verona | Mitsuhide Akechi | Bright Blight

Dark: Dark Wyrm | Bastet | Da Vinci | Dong Zhuo | Bahamut | Shadow Blade Muramasa | Darkblade Murasame | Drillmax | Gilles de Rais | Kamaitachi | Dina | Princess Takiyasha | Valodica

Tower: 24F | 27F | 29F | 30F | 35F | 40F

Temple: Water (Carnage) | Wood (Time) | Wood (Carnage) | Light (Carnage) | Dark (Time) | Dark (Carnage)
Paladin Series

Hatcher Monsters

Galahad

Lancelot

Merlin

Arthur

Tristan
Drop Monsters

Mordred

Lot

Cormoran

Emerald Dragon

Morgan
[Extreme] Guide
[Savage] Guide
[Savage] Guide
[Extreme] Guide
[Savage] Guide
_
Ad blocker interference detected!
Wikia is a free-to-use site that makes money from advertising. We have a modified experience for viewers using ad blockers

Wikia is not accessible if you've made further modifications. Remove the custom ad blocker rule(s) and the page will load as expected.