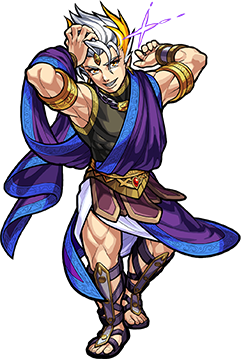 JP Name
-
JP #
2154
Class
Deity
Element
Gender
-
Rarity
-

Sling
Bounce
Max Luck
90
Type
Speed
Rating
-
Ability
Mine Sweeper
Gauge
-
HP
13288 (+2460) = 15748
Obtain
-
ATK
14671 (+1425) = 16096
SPD
364.07 (+36.55) = 400.62
Luck Skill
-
Badge
Strike Shot
War God's Bod - 12 Turns
Increases Speed.
Bump Combo
Lock-on Shockwave 6 (13259)
Attacks with 6 non-elemental shockwaves.

To Evo

1 Divine Sharl
5 Dark Sharls
10 Dark Stoans
30 Maxstoans

To Asc

Gremory (3)
Decarabia (3)
Recommended Form - Ascension
Ares the Warmonger (Evolution)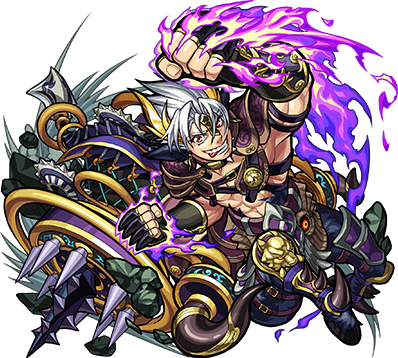 JP Name
-
JP #
2155
Class
Deity
Element
Gender
-
Rarity
-

Sling
Bounce
Max Luck
99
Type
Speed
Rating
-
Ability
Mine Sweeper / Light Resistance
Gauge
Deity Slayer M
HP
17917 (+3900) = 21817
Obtain
-
ATK
19123 (+2800) = 21923 (26307 w/ Gauge)
SPD
374.57 (+56.95) = 431.52
Luck Skill
Badge
Strike Shot
Warmonger's Fist - 18 Turns
Passes through enemies while attacking.
Bump Combo
Lock-on Piercewave 6 (18562)
Attacks foes with 6 non-elemental piercewaves.

To Asc

Gremory (2)
Decarabia (2)
Strengths
Effective against Deity enemies
Piercing SS gives you guarantee hits onto enemies
Weakness
Ableberries
Sidekick - Increases his Bump Combo damage
Class Kinstrength - Increases damage towards Deity enemies
Viable Quests

Impossibles/Colossals: Marishiten | Izanami: Zero


Fire: Gremory


Water:


Wood:


Light: Vishnu


Dark:

Tower: 39F

Temple: Fire (Time) | Fire (Carnage) | Water (Time) | Light (Time)
Ares, Fortress Breaker (Ascension)
JP Name
-
JP #
2156
Class
Deity
Element
Gender
-
Rarity
-

Sling
Pierce
Max Luck
99
Type
Power
Rating
-
Ability
Mine Sweeper
Gauge
Null Gravity Barrier
HP
19936 (+4200) = 24136
Obtain
-
ATK
26685 (+3900) = 30585 (36702 w/ Gauge)
SPD
243.9 (+36.55) = 280.45
Luck Skill
Badge
Strike Shot
Arius' Destruction - 20 Turns
Explodes on first enemy contact and does a lot of damage to all foes in the vicinity.
Bump Combo
Cross Laser XL (8794)
Attacks in a cross pattern with massive elemental lasers.

Sub Bump

To Evo

15 Dark Sharls
30 Dark Stoans
90 Maxstoans
Strengths
Two Null Abilities for high versatility
Explosion SS works well with his high ATK
Weakness
Low damaging Bump Combo due to Power typing
Ableberries
Class Kinstrength - Increases his SS damage
Viable Quests

Impossibles/Colossals: Acala | Memento Mori | El Dorado


Fire:


Water:


Wood:


Light: Vishnu | Cardinal Richelieu | Emerald Dragon | Behemoth


Dark: Slash | Deathscoil | Typera | Honda Tadakatsu

Tower:

Temple: Fire (Time) | Fire (Carnage) | Water (Time) | Dark (Carnage)
Ad blocker interference detected!
Wikia is a free-to-use site that makes money from advertising. We have a modified experience for viewers using ad blockers

Wikia is not accessible if you've made further modifications. Remove the custom ad blocker rule(s) and the page will load as expected.