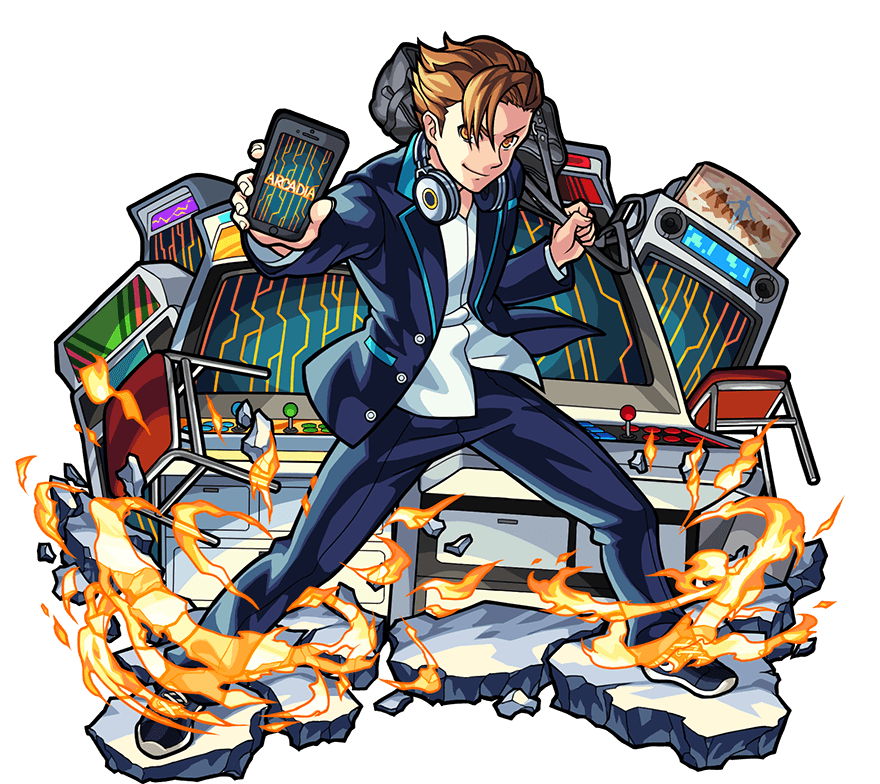 JP Name
アルカディア
JP #
2327
Class
Demihume
Element
Gender
Male
Rarity
5★

Sling
Bounce
Max Luck
90
Type
Balanced
Rating
-
Ability
Mine Sweeper
Gauge
-
HP
14449 (+0) = 14479
Obtain
ATK
17959 (+0) = 17959
SPD
291.00 (+0) = 291.00
Luck Skill
-
Badge
-
Strike Shot
コマンド・オブ・アルカディア - 21 Turns
Creates four images that terrorize the battlefield.
Bump Combo
Tribal Pulse (71750)
Attacks foes of the same Class with a non-elemental blast.

To Asc

Izanami: Zero (3)
Nirvana (3)
Digital Spark Arcadia (Ascension)
JP Name
赫き電影 アルカディア
JP #
2328
Class
Nebulan
Element
Gender
Male
Rarity
6★

Sling
Bounce
Max Luck
99
Type
Balanced
Rating
9.0
Ability
Mine Sweeper M
Gauge
Null Warp
HP
18984 (+4200) = 23184
Obtain
Ascension
ATK
15233 (+7450) = 22683 (27219 w/ Gauge)
SPD
254.53 (+129.20) = 383.73
Luck Skill
-
Badge
-
Strike Shot
エト・イン・アルカディア・エゴ - 22 Turns
Creates four images that terrorize the battlefield.
Bump Combo
Tribal Pulse (102500)
Attacks foes of the same Class with a non-elemental blast.

Sub Bump
Strengths
Bump combo great for clearing mobs of the same class
Double nulls
Easy to use and powerful clone SS
Weakness
Bump combo deals low damage to single targets
SS clones move randomly
Viable Quests

Impossibles/Colossals: Daikokuten | Izanagi | Kushinada


Fire: Grey Alien | Roc


Water:


Wood: Tokugawa Yoshinobu | Snowman | Issun | Zhang Jiao | Jiraiya | Meng Huo | Bell Joya 108 | Kevin Verdure | Oragon TV-chan


Light: Hikaru Genji | Vishnu


Dark: Drillmax | Karasu

Tower: 23F

Temple: Fire (Time) | Fire (Carnage) | Wood (Time) | Wood (Carnage) | Light (Time)
Ad blocker interference detected!
Wikia is a free-to-use site that makes money from advertising. We have a modified experience for viewers using ad blockers

Wikia is not accessible if you've made further modifications. Remove the custom ad blocker rule(s) and the page will load as expected.