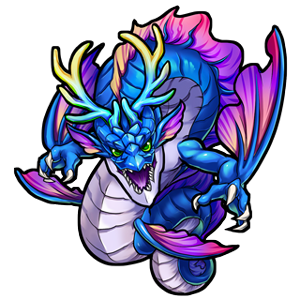 JP Name
アクアドラゴン
JP #
399
Class
Dragon
Element
Gender
Male
Rarity
4★

Sling
Pierce
Max Luck
72
Type
Speed
Rating
-
Ability
Null Gravity Barrier
Gauge
-
HP
6442 (+1400) = 7842
Obtain
ATK
7590 (+1475) = 9065
SPD
300.1 (+60.35) = 360.45
Luck Skill
-
Badge
-
Strike Shot
Tidal Wave - 13 Turns
Uses blue wyrm power to increase Speed and Strength.
Bump Combo
Ex Laser S (2796)
Attacks in a X pattern with 4 small sized elemental lasers

To Evo

1 Blue Sharl
5 Blue Stoans
10 Maxstoans
30 Stoans

Material For

Odin
Fire Wyrm
Dark Wyrm
Shiva
Aqua Abyssus (Evolution)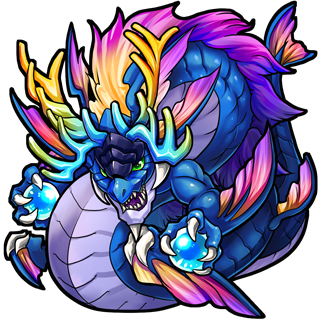 JP Name
蒼海神龍 アクアドラゴン
JP #
400
Class
Dragon
Element
Gender
Male
Rarity
5★

Sling
Pierce
Max Luck
90
Type
Speed
Rating
-
Ability
Null Gravity Barrier
Gauge
-
HP
11247 (+2460) = 13707
Obtain
Evolution
ATK
13105 (+255o) = 15655
SPD
331.97 (+67.15) = 399.12
Luck Skill
-
Badge
-
Strike Shot
Seven Sea Jewel - 18 Turns
Uses twin gems to greatly increase Speed and Strength.
Bump Combo
Ex Laser M (4735)
Attacks in an X pattern with 4 medium-sized elemental lasers.
Strengths
High SPD and Pierce to hit allies or to grab items
Weakness
Low HP and ATK
Low Bump Combo damage
Awakened Gods Series

Hatcher Monsters

Amaterasu

Odin

Valkyrie

Zeus

Shiva
Drop Monsters

Fire Wyrm

Aqua Wyrm

Dryad

Thunderbird

Dark Wyrm
[Extreme] Guide
[Savage] Guide
[Savage] Guide
[Savage] Guide
[Extreme] Guide
Ad blocker interference detected!
Wikia is a free-to-use site that makes money from advertising. We have a modified experience for viewers using ad blockers

Wikia is not accessible if you've made further modifications. Remove the custom ad blocker rule(s) and the page will load as expected.