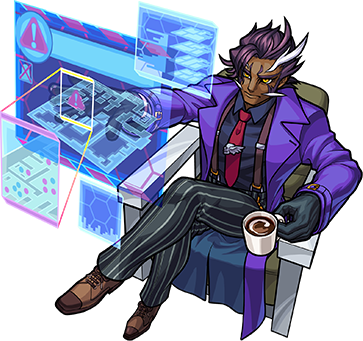 JP Name
-
JP #
2434
Class
Demon
Element
Gender
-
Rarity
-

Sling
Bounce
Max Luck
90
Type
Blast
Rating
-
Ability
Flight / Null Wind
Gauge
-
HP
12904 (+2460) = 15364
Obtain
-
ATK
14481 (+1400) = 15881
SPD
256.60 (+25.50) = 282.10
Luck Skill
-
Badge
Strike Shot
Clever Planning - 12 Turns
Increases Speed.
Bump Combo
Vertical Laser L (13259)
Attacks upward and downward with 2 large elemental lasers.

To Evo

1 Divine Sharl
5 Dark Sharls
10 Dark Stoans
30 Maxstoans

To Asc

Raina Brooks (3)
Mimi & Lolo Gildea (4)
Mastermind Anthony D (Evolution)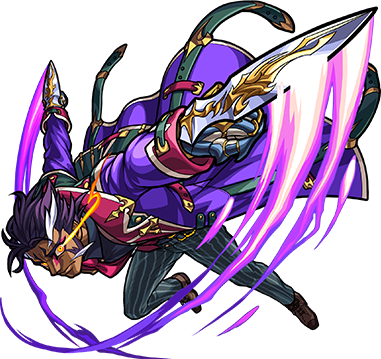 JP Name
-
JP #
2435
Class
Demon
Element
Gender
-
Rarity
-

Sling
Bounce
Max Luck
99
Type
Blast
Rating
-
Ability
Flight / Null Wind
Gauge
Null Block
HP
20537 (+3900) = 24437
Obtain
-
ATK
17133 (+2500) = 19633 (23560 w/ Gauge)
SPD
246.57 (+37.40) = 283.97
Luck Skill
Badge
Strike Shot
Deadly Slash - 8 Turns
Increases Speed and Strength and enables Counter Mode.
Bump Combo
Vertical Laser XL (34032)
Attacks upward and downward with 2 massive elemental lasers.

To Asc

Raina Brooks (2)
Mimi & Lolo Gildea (3)
Strengths
Blast-type Vertical Laser XL makes him a great damage source
Weakness
Has a lot of Nulls but none of the popular ones like NGB or NDW
Ableberries
Sidekick - Increases Bump Combo damage even more
Survivor - Take less damage from enemies (especially Light ones)
Viable Quests

Impossibles/Colossals:


Fire: Roc


Water: Koalius


Wood:


Light: Pine | Scyllara | Utagawara Senko | Cardinal Richelieu


Dark: Lady Rokujo

Tower:

Temple: Water (Time) | Wood (Carnage) | Light (Time)
Beastly Anthony D (Ascension)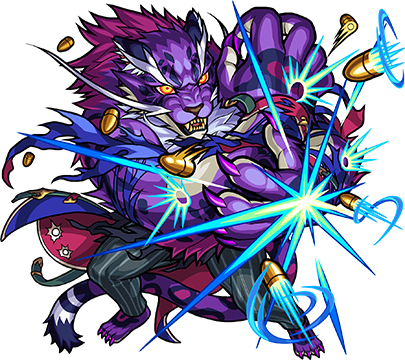 JP Name
-
JP #
2436
Class
Demon
Element
Gender
-
Rarity
-

Sling
Bounce
Max Luck
99
Type
Balanced
Rating
-
Ability
Null Gravity Barrier / Laser Stop
Gauge
Nebulan Slayer
HP
19876 (+4200) = 24076
Obtain
-
ATK
20474 (+3000) = 23474 (28169 w/ Gauge)
SPD
308.80 (+46.75) = 355.55
Luck Skill
Badge
Strike Shot
Mega Beast Form - 16 Turns
Attacks all enemies on contact with lightning.
Bump Combo
Energy Circle L (13259)
Fires a large elemental sphere of energy.

Sub Bump

To Evo

15 Dark Sharls
30 Dark Stoans
90 Maxstoans
Strengths
Short Meteor SS for mob clear
Nebulan Slayer is effective for Karma (Impossible)
Weakness
SS not great as a finisher or Boss damage
Ableberries
Sidekick - Increases Bump Combo damage even more
Survivor - Take less damage from enemies (especially Light ones)
Viable Quests

Impossibles/Colossals: Karma | Tsukuyomi | Lu Bu


Fire:


Water: Goldy & Baldy


Wood: Saturn


Light: Orochimaru | Bright Blight


Dark: Geppetto | Valodica | Krishna | Princess Takiyasha

Tower: 30F

Temple: Water (Time) | Water (Carnage)
Ad blocker interference detected!
Wikia is a free-to-use site that makes money from advertising. We have a modified experience for viewers using ad blockers

Wikia is not accessible if you've made further modifications. Remove the custom ad blocker rule(s) and the page will load as expected.