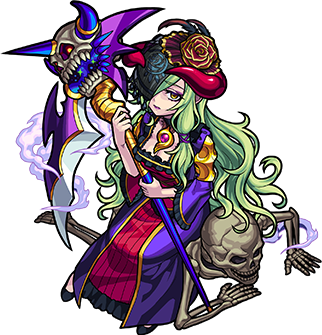 JP Name
アングルボザ
JP #
2566
Class
Fiend
Element
Gender
-
Rarity
-

Sling
Bounce
Max Luck
90
Type
Blast
Rating
-
Ability
Null Damage Wall
Gauge
HP
15059 (+0) = 15059
Obtain
-
ATK
12795 (+0) = 12795
SPD
229.17 (+0) = 229.17
Luck Skill
-
Badge
Strike Shot
ヨトゥンヘイムの昏き鼓動 - 12 Turns
Bashes the first contacted enemy and attacks with a spread shot.
Bump Combo
Homing Piercer 6 (2432)
Randomly targets foes with 6 elemental pass-through shots.

To Evo

1 Divine Sharl
5 Dark Sharls
10 Dark Stoans
30 Maxstoans

Material For

Skuld
Urd
Heimdall
Angrboða (Evolution)
JP Name
哀しみを告げる者 アングルボザ
JP #
2567
Class
Fiend
Element
Gender
-
Rarity
-

Sling
Bounce
Max Luck
99
Type
Blast
Rating
-
Ability
Beast Slayer
Gauge
Null Damage Wall
HP
18392 (+3900) = 22292
Obtain
-
ATK
16579 (+5650) = 22229 (26675 w/ Gauge)
SPD
206.87 (+73.10) = 279.97
Luck Skill
Badge
Strike Shot
プロフェット・オブ・ペイン - 16 Turns
Bashes the first contacted enemy and attacks with a spread shot.
Bump Combo
Homing Piercer 8 (3345)
Randomly targets foes with 8 elemental pass-through shots.
Strengths
Blast Type Homing Pìerce 8 for mob clear
Base Beast Slayer for mob clear
Weakness
Low damage SS
Only 1 Null
Viable Quests

Impossibles/Colossals:


Fire:


Water:


Wood: Gigabeast Fighters


Light:


Dark: Kamaitachi | Da Vinci | Dong Zhuo

Tower:

Temple:
Ragnarok 3 Series

Hatcher Monsters

Skuld

Urd

Heimdall
Drop Monsters

Ymir

Jotun

Garm

Angrboða
[Lethal] Guide
[Extreme] Guide
[Savage] Guide
[Extreme] Guide
Ad blocker interference detected!
Wikia is a free-to-use site that makes money from advertising. We have a modified experience for viewers using ad blockers

Wikia is not accessible if you've made further modifications. Remove the custom ad blocker rule(s) and the page will load as expected.