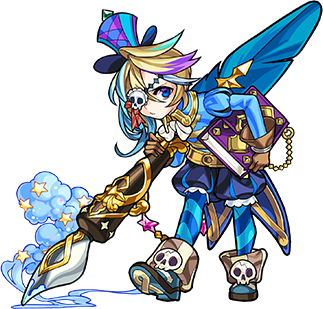 JP Name
-
JP #
2251
Class
Demihume
Element
Gender
-
Rarity
-

Sling
Bounce
Max Luck
90
Type
Balanced
Rating
-
Ability
Null Warp
Gauge
-
HP
11219 (+2460) = 13679
Obtain
-
ATK
13168 (+1300) = 14468
SPD
263.87 (+26.35) = 290.22
Luck Skill
-
Badge
Strike Shot
Dark Fairytale - 12 Turns
Increases Speed.
Bump Combo
Homing Piercer 6 (1702)
Randomly targets foes with 6 elemental pass-through shots.

To Evo

1 Divine Sharl
5 Blue Sharls
10 Blue Stoans
30 Maxstoans

To Asc

Lady Rokujo (3)
Gigabeast Fighters (2)
Recommended Form - Ascension
More Null Abilities for higher versatility
Storyteller Andersen (Evolution)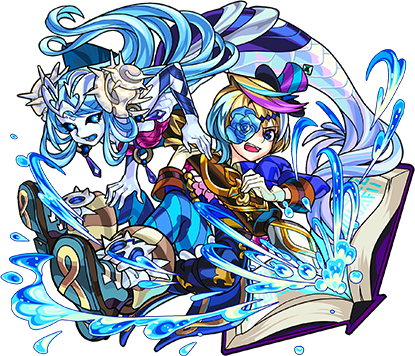 JP Name
-
JP #
2252
Class
Demihume
Element
Gender
-
Rarity
-

Sling
Bounce
Max Luck
99
Type
Balanced
Rating
-
Ability
Paladin Slayer M
Gauge
Null Warp
HP
17763 (+3900) = 21663
Obtain
-
ATK
20480 (+3000) = 23480 (28176 w/ Gauge)
SPD
278.67 (+41.65) = 320.32
Luck Skill
Badge
Strike Shot
Little Mad Mermaid - 16 Turns
Sends the first contacted enemy flying and restores HP.
Bump Combo
Homing Piercer 8 (1702)
Randomly targets foes with 8 elemental pass-through shots.

To Asc

Lady Rokujo (2)
Gigabeast Fighters (1)
Strengths
Weakness
Only one Null Ability
Not very effective on non-Paladin enemies
Ableberries
Class Kinstrength - Increases damage towards Paladin enemies
Survivor - Mitigates damage from enemies and very useful against Avalon
Viable Quests

Impossibles/Colossals: Avalon | Daikokuten


Fire:


Water: Louis XIII


Wood:


Light: Signal Man


Dark:

Tower:

Temple: Water (Time) | Water (Carnage)
Andersen the Taleweaver (Ascension)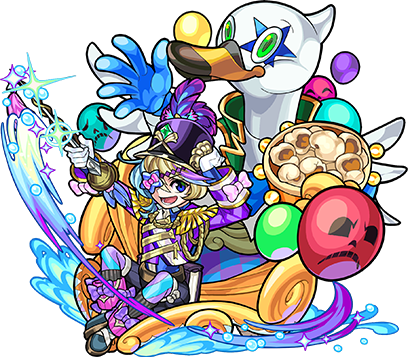 JP Name
-
JP #
2253
Class
Demihume
Element
Gender
-
Rarity
-

Sling
Bounce
Max Luck
99
Type
Balanced
Rating
-
Ability
Mine Sweeper
Gauge
Null Gravity Barrier
HP
17849 (+4200) = 22049
Obtain
-
ATK
19740 (+2875) = 22615 (27138 w/ Gauge)
SPD
270.4 (+40.8) = 311.2
Luck Skill
Badge
Strike Shot
Ducky's Dream Parade - 26 Turns
Increases Speed and electrifies surrounding area.
Bump Combo
Homing Pierce-struction 8 (3345)
Randomly targets foes with 8 powerful elemental pass-through shots.

Sub Bump

To Evo

15 Blue Sharls
30 Blue Stoans
90 Maxstoans
Strengths
Double Null Abilities for high versatiliy
Bump Combos can deal damage and support allies
Weakness
Ableberries
Sidekick - Increases Bump Combo damage
Viable Quests

Impossibles/Colossals: Acala | Yamato Takeru: Zero | Izanami: Zero


Fire: Zeami | Roc | Gremory | Queen of Hearts | Burst | Jin | Princess Sakuya | Gilgamesh (FF) | Leopoint


Water: Michelangelo | Marie Antoinette


Wood:


Light: Verona


Dark: Deathscoil | Slash

Tower: 31F

Temple: Fire (Time) | Fire (Carnage) | Water (Time) | Light (Time) | Dark (Carnage)
Library of Dark Marchen Series

Hatcher Monsters

Andersen

Shakespeare

Dante
Drop Monsters

Judge Rock

Gigabeast Fighters

Hikaru Genji

Lady Rokujo
[Savage] Guide
[Extreme] Guide
[Lethal] Guide
[Extreme] Guide
Ad blocker interference detected!
Wikia is a free-to-use site that makes money from advertising. We have a modified experience for viewers using ad blockers

Wikia is not accessible if you've made further modifications. Remove the custom ad blocker rule(s) and the page will load as expected.