JP Name
-
JP #
1911
Class
Deity
Element
Gender
-
Rarity
-

Sling
Bounce
Max Luck
90
Type
Balanced
Rating
-
Ability
Null Gravity Barrier
Gauge
-
HP
12476 (+2460) = 14936
Obtain
-
ATK
16816 (+1650) = 18466
SPD
252.93 (+24.65) = 277.58
Luck Skill
-
Badge
Strike Shot
Offering of Divinity - 16 Turns
Increases Speed and Strength.
Bump Combo
Ex Laser M (4735)
Attacks in an X pattern with 4 medium-sized elemental lasers.

To Evo

1 Divine Sharl
5 Green Sharls
10 Green Stoans
30 Maxstoans

To Asc

Pencil Base (3)
Typera (2)
Recommended Form - Evolution
Unique Null Magic Circle
Not many uses for Discordi Slayer from Ascension
Whirling Deity Ame-no-Uzume (Evolution)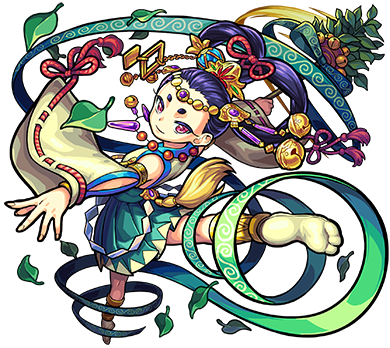 JP Name
-
JP #
1912
Class
Deity
Element
Gender
-
Rarity
-

Sling
Bounce
Max Luck
99
Type
Balanced
Rating
-
Ability
Null Gravity Barrier
Gauge
Null Magic Circle
HP
19752 (+3900) = 23652
Obtain
-
ATK
20924 (+3050) = 23974 (28768 w/ Gauge)
SPD
267.1 (+39.95) = 307.05
Luck Skill
Badge
Strike Shot
Iwato Dance Off - 20 Turns
Passes through enemies while attacking and increases the grade of items on screen.
Bump Combo
Rebound Ex Laser L (2486)
Attacks in an X pattern with 4 large elemental lasers that rebound three times.

To Asc

Pencil Base (2)
Typera (1)
Strengths
Unique Null Magic Circle
Rebound Ex Laser L has wide coverage
Weakness
Ableberries
Class Kinstrength - Increases her ATK to over 30000
Survivor - Mitigates damage from enemies
Knockout - Synergizes well with SS
Viable Quests

Impossibles/Colossals: Yamato Takeru


Fire:


Water: Kay | Goldy & Baldy | Baal | Jabberwock | Eva-13


Wood:


Light:


Dark: Gilles de Rais

Tower: 22F | 27F | 38F

Temple: Water (Time) | Wood (Carnage) | Dark (Carnage)
Ame-no-Uzume, Conjurer of Fortune (Ascension)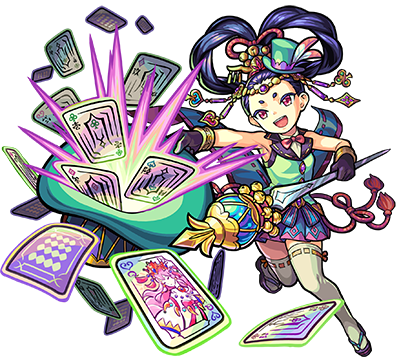 JP Name
-
JP #
1913
Class
Deity
Element
Gender
-
Rarity
-

Sling
Bounce
Max Luck
99
Type
Balanced
Rating
-
Ability
Discordi Slayer M
Gauge
Null Gravity Barrier
HP
18575 (+4200) = 22775
Obtain
-
ATK
20087 (+2925) = 23012 (27614 w/ Gauge)
SPD
276.53 (+41.65) = 318.18
Luck Skill
Badge
Strike Shot
Iwato Showtime - 30 Turns
Attacks enemies on contact with a sylvan shower.
Bump Combo
Rebound Ex Laser L (2486)
Attacks in an X pattern with 4 large elemental lasers that rebound three times.

Sub Bump

To Evo

15 Green Sharls
30 Green Stoans
90 Maxstoans
Strengths
Meteor SS for mob clearing
Weakness
Hardly any use for Discordi Slayer M
Ableberries
Class Kinstrength - Increases SS damage
Viable Quests

Impossibles/Colossals:


Fire:


Water: Tiger I


Wood: Pencil Base | Reindeera


Light:


Dark:

Tower: 27F

Temple: Water (Time) | Wood (Carnage) | Dark (Carnage)
Ad blocker interference detected!
Wikia is a free-to-use site that makes money from advertising. We have a modified experience for viewers using ad blockers

Wikia is not accessible if you've made further modifications. Remove the custom ad blocker rule(s) and the page will load as expected.