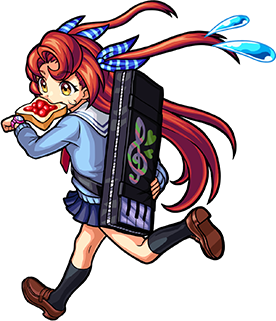 JP Name
-
JP #
2078
Class
Demihume
Element
Gender
-
Rarity
-

Sling
Bounce
Max Luck
72
Type
Balanced
Rating
-
Ability
Null Damage Wall
Gauge
-
HP
7817 (+0) = 7817
Obtain
-
ATK
6863 (+0) = 6863
SPD
153.47 (+0) = 153.47
Luck Skill
-
Badge
Strike Shot
Brass Dreams - 12 Turns
Increases Speed.
Bump Combo
Homing Shot 8 (2583)
Randomly targets foes with 8 elemental shots.

To Evo

1 Blue Sharl
5 Blue Stoans
10 Maxstoans
30 Stoans
Bandesta Akagi Rin (Evolution)
JP Name
-
JP #
2079
Class
Demihume
Element
Gender
-
Rarity
-

Sling
Bounce
Max Luck
90
Type
Balanced
Rating
-
Ability
Null Damage Wall
Gauge
HP
13951 (+0) = 13951
Obtain
-
ATK
14765 (+0) = 14765
SPD
218.2 (+0) = 218.2
Luck Skill
Badge
Strike Shot
Blueberry Sound - 12 Turns
Increases Speed.
Bump Combo
Homing Shot 12 (3075)
Randomly targets foes with 12 elemental shots.

To Evo

1 Divine Sharl
5 Blue Sharls
10 Blue Stoans
30 Maxstoans
The Aqua Monstriker (Evolution)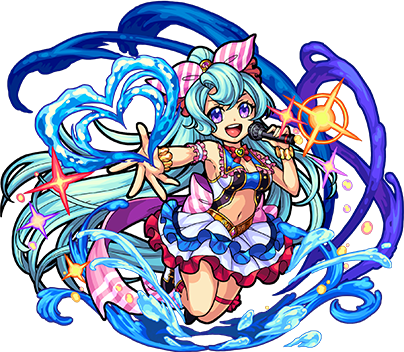 JP Name
-
JP #
2080
Class
Demihume
Element
Gender
-
Rarity
-

Sling
Bounce
Max Luck
99
Type
Balanced
Rating
-
Ability
Null Damage Wall
Gauge
HP
13168 (+3900) = 17068
Obtain
-
ATK
14762 (+5050) = 19812
SPD
207.07 (+73.1) = 280.17
Luck Skill
Badge
Strike Shot
Aquablue Splash - 24 Turns
On each enemy rebound, attacks outward with bullets.
Bump Combo
Homing Shot 18 (3294)
Randomly targets foes with 18 elemental shots.
Strengths
Bullet SS good for mob clearing
Easy to Max Luck
Weakness
Only one Ability
Low stats
Viable Quests

Impossibles/Colossals: Ashura


Fire: Zuma | Shen Gongbao


Water:


Wood:


Light: Jack


Dark:

Tower:

Temple:
Ad blocker interference detected!
Wikia is a free-to-use site that makes money from advertising. We have a modified experience for viewers using ad blockers

Wikia is not accessible if you've made further modifications. Remove the custom ad blocker rule(s) and the page will load as expected.