JP Name
機光院 チヨ
JP #
907
Class
Mech
Element
Gender
Female
Rarity
5★

Sling
Bounce
Max Luck
90
Type
Power
Rating
-
Ability
Null Gravity Barrier
Gauge
-
HP
11870 (+2460) = 14330
Obtain
Hatcher
ATK
20678 (+2000) = 22678
SPD
189.33 (+18.70) = 208.03
Luck Skill
-
Badge
Strike Shot
レメルソンスピーディア - 12 Turns
Increases Speed.
Bump Combo
Energy Circle S (3788)
Fires a small elemental sphere of energy.

To Evo

1 Divine Sharl
5 Light Sharls
10 Light Stoans
30 Maxstoans

To Asc

Gigamantis (2)
Kabushido (2)
Vesputin (1)
Recommended Form - Ascension
Better Slayer Ability
Stronger Strike Shot
SST Tinker Queen (Evolution)
JP Name
MDT メカイノベーター
JP #
908
Class
Mech
Element
Gender
Female
Rarity
6★

Sling
Bounce
Max Luck
99
Type
Blast
Rating
7.0
Ability
Mech Slayer
Gauge
Null Gravity Barrier
HP
19088 (+3900) = 22988
Obtain
Evolution
ATK
18085 (+2650) = 20735 (24882 w/ Gauge)
SPD
229.43 (+34.85) = 264.28
Luck Skill
Badge
Strike Shot
サウンドチェイスビーム - 16 Turns
Bashes the first contacted enemy and attacks with a laser.
Bump Combo
Energy Circle M (13259)
Fires a medium-sized elemental sphere of energy.

To Asc

Gigamantis (1)
Kabushido (1)
Vesputin (1)
Strengths
Effective against Mech enemies
Blast Type Energy Circle for damage and it procs her Slayer and Luck Skill
Weakness
Low SPD
SS does not work well with her Bump Combo positioning
Ableberries
Sidekick - Increases her Bump Combo damage
Class Kinstrength - Increases her damage towards Mech enemies
Survivor - Mitigates damage from enemies
Viable Quests
Impossibles/Colossals:


Fire: Solwing

Water:


Wood: Gigamantis | Florrior


Light: Cardinal Richelieu


Dark: Kabushido

Tower:

Temple: Dark (Carnage)
SST Tinker Tyrant (Ascension)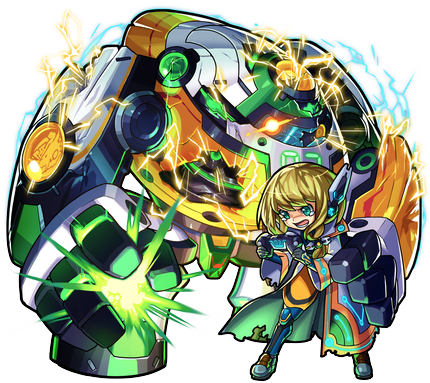 JP Name
MDT マッドイノベーター
JP #
909
Class
Mech
Element
Gender
Female
Rarity
6★

Sling
Bounce
Max Luck
99
Type
Power
Rating
8.5
Ability
Null Gravity Barrier
Gauge
Dark Slayer
HP
21380 (+4200) = 25580
Obtain
Ascension
ATK
24929 (+3675) = 28604 (34324 w/ Gauge)
SPD
200.70 (+29.75) = 230.45
Luck Skill
Badge
Strike Shot
アイアンイリュージョン - 22 Turns
Uses mech power to increase Strength on each wall rebound.
Bump Combo
Energy Circle M (6629)
Fires a medium-sized elemental sphere of energy.

Sub Bump

Homing Piercer 4 (1394)
Randomly targets foes with 4 elemental pass-through shots.

To Evo

15 Light Sharls
30 Light Stoans
90 Maxstoans
Strengths
Effective against all Dark enemies
Powerful Strike Shot
Weakness
Hard to make use of SS due to low SPD
Ableberries
Class Kinspeed - Covers her low SPD
Survivor - Mitigates damage from enemies
Cutthroat - Useful against high HP Bosses
Viable Quests
Impossibles/Colossals: Tsukuyomi | Tsukuyomi: Zero | Yomi


Fire:

Water:


Wood:


Light:


Dark: Darkblade Murasame | Shadow Blade Muramasa | Deathscoil | Bastet | Inari | Princess Takiyasha | M. Bison | Deathscoil x 9th Angel | Gilles de Rais | Dark Wyrm | Kabushido | Ultron | Valodica | Genome

Tower: 28F

Temple: Wood (Carnage) | Dark (Carnage)
Super Strike Team Series

Hatcher Monsters

Sherry Blawesome

Didier Simflaille

Igor Psychotovich

Ai Mechamori

Gerlinde Veisser
Drop Monsters

Beetlestag

Wrathantula

Gigamantis

Vesputin

Kabushido
[Savage] Guide
[Savage] Guide
[Extreme] Guide
[Savage]] Guide
[Extreme] Guide
Ad blocker interference detected!
Wikia is a free-to-use site that makes money from advertising. We have a modified experience for viewers using ad blockers

Wikia is not accessible if you've made further modifications. Remove the custom ad blocker rule(s) and the page will load as expected.