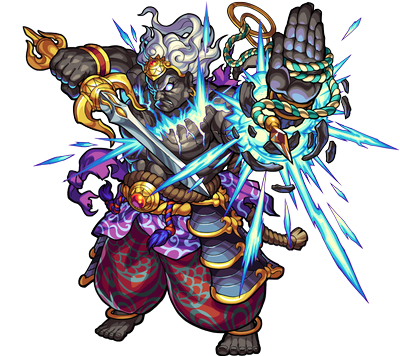 JP Name
不動明王
JP #
1480
Class
Demon
Element
Gender
Male
Rarity
5★

Sling
Bounce
Max Luck
90
Type
Power
Rating
-
Ability
Null Gravity Barrier
Gauge
-
HP
15076 (+0) = 15076
Obtain
ATK
17475 (+0) = 17475
SPD
151.83 (+0) = 151.83
Luck Skill
-
Badge
-
Strike Shot
煩悩滅却 - 18 Turns
Launches rebounding pulses in the targeted and opposite directions.
Bump Combo
Flare (4584)
Attacks with a non-elemental blast that has a small chance of stunning enemies.

To Evo

2 Divine Sharls
10 Dark Sharls
20 Dark Stoans
60 Maxstoans

Material For

Yomi
Acala the Immovable (Evolution)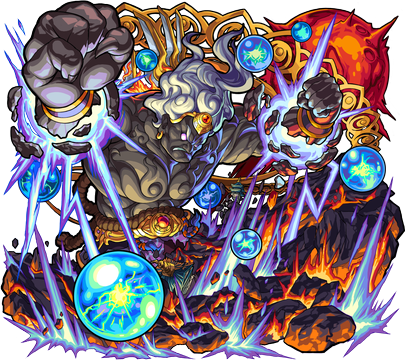 JP Name
大日大聖 不動明王
JP #
1481
Class
Demon
Element
Gender
Male
Rarity
6★

Sling
Bounce
Max Luck
99
Type
Power
Rating
8.0
Ability
Null Gravity Barrier
Gauge
Null Damage Wall
HP
21292 (+3900) = 25192
Obtain
Evolution
ATK
22592 (+7725) = 30317 (36380 w/ Gauge)
SPD
179.50 (+62.90) = 242.40
Luck Skill
-
Badge
-
Strike Shot
穢土滅殺破 - 21 Turns
Launches rebounding pulses in the targeted and opposite directions.
Bump Combo
Flare (17325)
Attacks with a non-elemental blast that has a small chance of stunning enemies.
Strengths
Double nulls
Extremely powerful SS
Weakness
Flare has a very short range; does not trigger bump combos
Power type
Viable Quests
Impossibles/Colossals: Izanami | Kushinada | Yamato Takeru | Izanagi


Fire: Solwing | Mordred | Fire Wyrm


Water: Nurarihyon | Okita Soji | Joker | Lupin the Third | Sanma | Origa


Wood: Sylvasaur | Poltergeist | PC-G3 | Basilisk | Serket | Siren | Mine Fujiko

Light: Emerald Dragon | Kii | Fenrir | Lightblade Murasame | Ishikawa Goemon | Behemoth | Bright Blight | 10th Angel | Minamoto no Yoritomo | Virgo Shaka | Jack | Birthday | Miyabi

Dark: Visceron | Inari | Zero

Tower: 30F | 34F | 40F

Temple: Water (Time) | Water (Carnage) | Wood (Time) | Wood (Carnage) | Light (Carnage)
Impossibles

1st Round

Izanami
[Guide]

Yamato Takeru
[Guide]

Kushinada
[Guide]

Izanagi
[Guide]

Tsukuyomi
[Guide]
2nd Round

Ashura
[Guide]

Bishamonten
[Guide]

Marici
[Guide]

Daikoku
[Guide]

Acala
[Guide]
Zero

Izanami: Zero
[Guide]

Yamato: Zero
[Guide]

Kushinada: Zero
[Guide]

Izanagi: Zero
[Guide]

Tsukuyomi: Zero
[Guide]
War Gods

Nirvana
[Guide]

Doom
[Guide]

Memento Mori
[Guide]

Karma
[Guide]

Akasha
[Guide]
3rd Round

Cain
[Guide]

Lu Bu
[Guide]

Brutus
[Guide]
Ad blocker interference detected!
Wikia is a free-to-use site that makes money from advertising. We have a modified experience for viewers using ad blockers

Wikia is not accessible if you've made further modifications. Remove the custom ad blocker rule(s) and the page will load as expected.